Board change as interim report highlights improved Cargotec profitability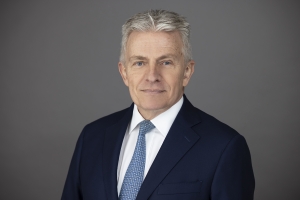 (Posted on 27/04/22)
Cargotec Corporation's Board of Directors elected by the Annual General Meeting has announced the appointment of Mr. Jaakko Eskola as the new Company Chair. Jaakko Eskola will succeed Mr. Ilkka Herlin who has chosen to step down as the Chair of the Board having served as Chair for 17 years since 2005. The change will take effect immediately. Ilkka Herlin will continue as a member of the board and as the Vice Chair.
Jaakko Eskola joined Cargotec's Board in March 2021 after a distinguished career in Wärtsilä and was elected as vice chair of Cargotec's Board of Directors previously in March 2022.
"It has been a privilege to be chair of this unique company. As we move into a new phase of the company I'm pleased to welcome Jaakko as my successor. I have strong confidence in Cargotec's next wave of growth. Jaakko brings a wealth of industry and leadership experience across a wide range of companies that ideally equip him to help Cargotec navigate the transition into a more sustainable and profitable business that continues to generate substantial value for shareholders and customers," says Ilkka Herlin.
"I'm very humbled and excited to accept the role as Chair of Cargotec, particularly at such an exceptional time for the industry and wider society. I'm honoured to succeed Ilkka and I look forward to working closely with the leadership to continue to ensure that Cargotec makes a positive impact for all stakeholders. I have already participated in the shaping of the refocused strategy that Cargotec has recently communicated and I'm convinced this is the right time to accelerate the transition to an even more profitable and futureproof business," says Jaakko Eskola.
Following the announcement of Cargotec's interim report, CEO Mika Vehviläinen said, "The year 2022 has started eventfully. We refocused our strategy at the end of March. Sustainability and profitable growth remain our breakthrough objectives but, going forward, we focus on developing Hiab, Kalmar mobile equipment and straddle and shuttle carriers, as well as related services (Core businesses). The decision to refocus the strategy follows the decision of the Boards of Directors of Cargotec and Konecranes to cancel the planned merger after the negative resolution of the UK Competition & Markets Authority. Along with the strategy refocus, we announced our plans to exit Kalmar's heavy port cranes business, and started an evaluation of strategic options of MacGregor.
Hiab and refocused Kalmar offer their customers lifecycle services as well as market leading equipment and technologies. During the last eight years, their comparable operating profit margins have been above 10 percent. A large installed base with related services forms the basis of these businesses with both of them holding leading market positions in structurally attractive markets.
Our refocused strategy enables additional investments in research, development and M&A in our core businesses, providing us a good position to further enhance our business through electrification, robotics and digitalisation.
The market environment has also evolved strongly during the first quarter. The persisting coronavirus pandemic and the related restriction measures have caused global delivery and logistics challenges, as a result of which also the level of inflation has risen. China's strong blockage measures pose a risk that these challenges will continue.
Russia's attack on Ukraine is cruel and unjustified. We comply with the international sanctions imposed on Russia and have stopped our sales in Russia and Belarus. The direct impacts of the attack on Cargotec's business have so far been limited. However, in the form of component availability challenges and accelerating inflation, for example, the indirect effects of the crisis on the global economy and our business are significant.
We have responded to these challenges by continuing the price increases we started last year, engaging in an active supplier cooperation, and building alternative supply chains."
Latest News
(Posted on 26/11/23)
VIKING Life-Saving Equipment, a global leader in maritime safety solutions, is launching an innovative... Read more
(Posted on 26/11/23)
Damen's client Gerdes Green has received a subsidy from the German Government for the investment... Read more
(Posted on 17/11/23)
A first of its kind training course for the Middle East has been held to teach mariners about the basic... Read more
(Posted on 13/11/23)
Wärtsilä ANCS, part of technology group Wärtsilä, has delivered to Seaspan, a marine... Read more
(Posted on 31/10/23)
The flag raising ceremony for three new ASD Tugs has taken place in Gdansk, Poland. In the presence... Read more
(Posted on 26/10/23)
A new immersive crane simulator that can recreate high-risk scenarios without putting drivers or other... Read more
(Posted on 23/10/23)
Vesto Ropes, a global leader in innovative steel wire-rope solutions, has announced a strategic partnership... Read more
(Posted on 23/10/23)
Bedeschi S.p.a. has been awarded a contract for the design and supply of a new longitudinal storage... Read more
(Posted on 18/10/23)
Rhenus Maritime Services (RMS) is adding a new coastal vessel to its fleet in the shape of the RMS Ruhrort... Read more
(Posted on 18/10/23)
Dualog, a leading maritime software provider, has introduced a major enhancement to the Dualog Drive... Read more