BIO-UV reports 31% increase in BIO-SEA sales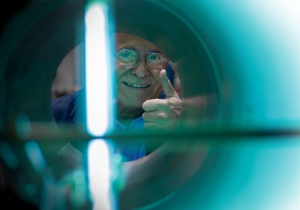 (Posted on 27/01/23)
BIO-UV Group has reported a 31% increase in revenues from its maritime business segment, contributing to full-year consolidated revenues of €51.5m for the 2022 financial year.
The Euronext Paris listed company, a specialist in water treatment and disinfection using UV, ozone, salt electrolysis and AOP, confirmed the sale of more than 200 BIO-SEA ballast water treatment systems throughout the course of the year, with potential sales going into the 2023/2024 period remaining high.
Benoît Gillmann, Founder, Chairman and CEO of BIO-UV Group commented: "2022 was another year of very strong growth for BIO-UV Group, for both the Land and Marine divisions.
"The BIO-UV Group is holding its course for strong growth despite rough seas thanks to the dedication and efficiency of its staff.
"Ultimately, targets were exceeded with €1.5 million more in sales than the €50 million we had anticipated. This is well above the roadmap figure announced in 2018 at the time of the IPO."
Mr. Gillman furthered: "Everyone in the team is intent on continuing to grow the company, both organically and externally, and preparing the next stages of development. More than ever, we intend to focus on our strategic areas: recreation, wastewater recovery ("REUSE"), maritime, aquaculture and industry."
BIO-UV Group manufactures, delivers and services BIO-SEA ballast water treatment units for flow rates ranging from 13m3/h up to 2100m3/h. The company offers complete turnkey BWTS services with installations on containerships, bulk carriers, multi-cargo vessels, cruiseships, passenger ferries, offshore vessels, naval ships and mega-yachts.
Latest News
(Posted on 31/03/23)
Konecranes has won an order for two Konecranes Gottwald Cranes on Barge from Winning Logistics in Guinea... Read more
(Posted on 31/03/23)
Technology group Wärtsilä has introduced a new radical derating retrofit solution –... Read more
(Posted on 31/03/23)
Thomas Zanzinger, CEO of Ocean Technologies Group (OTG), outlined why he thought many maritime businesses... Read more
(Posted on 28/03/23)
DNV has enhanced its Alternative Fuels Insight (AFI) data platform as part of an effort to accelerate... Read more
(Posted on 24/03/23)
Bruks Siwertell has secured an order for a next-generation Siwertell road-mobile ship unloader, which... Read more
(Posted on 20/03/23)
Thordon Bearings is supplying its grease-free, self-lubricating ThorPlas-Blue bearing material to a... Read more
(Posted on 20/03/23)
French water treatment specialist BIO-UV Group has appointed Laurent-Emmanuel Migeon as its new Chairman... Read more
(Posted on 07/03/23)
With Wärtsilä's CII Dashboard, Anglo-Eastern is now able to make better informed decisions... Read more
(Posted on 07/03/23)
Bruks Siwertell has completed the commissioning of two large-scale Siwertell ST 790-D-type ship unloaders... Read more
(Posted on 28/02/23)
A consortium including technology group Wärtsilä has secured European Union funding to develop... Read more