BHP Operational Review for the year ended 30 June 2023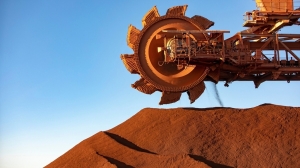 (Posted on 09/08/23)
BHP Chief Executive Officer, Mike Henry has reported that, "The financial year was marked by the deaths of Jody Byrne and Nathan Scholz. These tragic events underscore the absolute importance of safety and we are resolute in our commitment to eliminating fatalities and serious injuries at BHP.
"BHP finished the year with a strong fourth quarter, increasing annual production across the board and achieving annual records at WAIO, Olympic Dam and Spence. WAIO shipped record volumes on the back of productivity in its supply chain, rail network and car dumpers, while South Flank completed its deployment of autonomous haul trucks in May and is on track to ramp up to full production in the next 12 months. Olympic Dam's improved reliability and productivity delivered record annual output in copper, gold and silver, and the integration of OZ Minerals into our South Australian copper business is expected to lift production to between 310 and 340 kt in FY24. At Escondida, the team managed through operational challenges to deliver solid production and position the asset to increase output further in FY24. Our Queensland coal operations achieved strong underlying performance including the transition to autonomous fleets at Goonyella Riverside and Daunia, offsetting the impact of significant wet weather.
"Inflationary pressures impacted our business in the year, and we remain laser focused on safety and productivity to remain competitive. Competitiveness will be ever more important as we enter the new financial year and at a time when there are new challenges and opportunities to resource development and global economic volatility.
"BHP's portfolio is geared towards high quality steelmaking and growth options in future facing commodities. The Jansen potash project in Canada remains ahead of plan and studies for Stage 2 are progressing. Through the year, BHP made strategic investments and exploration progress in copper and nickel prospects globally, including Kabanga in Tanzania, Oak Dam in Australia, Filo Mining with the Filo del Sol project in Argentina and Chile, and Ocelot in the United States, as well as Serbia and Peru."
Latest News
(Posted on 07/12/23)
Rio Tinto has approved a $77 million (A$110 million) pre-feasibility study (PFS) to progress development... Read more
(Posted on 03/12/23)
Rio Tinto and Giampaolo Group have completed a transaction to form the Matalco joint venture, combining... Read more
(Posted on 03/12/23)
Khalifa Economic Zones Abu Dhabi – KEZAD Group, the largest operator of integrated and purpose... Read more
(Posted on 26/11/23)
ADM, a leader in sustainable agriculture supply chains, has announced an important expansion of its... Read more
(Posted on 17/11/23)
Trafigura, a market leader in the global commodities industry, has agreed to invest in an all-in-one... Read more
(Posted on 17/11/23)
ADM and Marathon Petroleum Corp. have celebrated the opening of their joint venture soybean processing... Read more
(Posted on 13/11/23)
Former U.S. Grains Council (USGC) Director of Global Programmes Alejandra Castillo was named the successor... Read more
(Posted on 13/11/23)
Rio Tinto has completed the acquisition of PanAmerican Silver's stake in Agua de la Falda and... Read more
(Posted on 05/11/23)
Cargill has completed an expansion and modernization project at its integrated soybean crush and refined... Read more
(Posted on 31/10/23)
BHP has approved an investment of US$4.9 billion (C$6.4 billion) for stage two of the Jansen potash... Read more