BHP and Mitsubishi to reduce emissions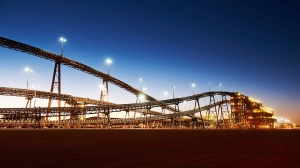 (Posted on 21/06/19)
BHP and Mitsubishi Development Pty Ltd have signed an MOU agreement to work together in the pursuit of emissions reductions, including from the life-cycle use of marketed products.
In Tokyo today, BHP Chief Executive Officer, Andrew Mackenzie, said the MOU marked the start of an important collaboration with one of BHP's essential long-term industry partners.
'BHP is committed to accelerating the development of emerging technologies that have the potential to achieve material reductions in greenhouse gas emissions,' Mr Mackenzie said.
'Our new collaboration with Mitsubishi Development demonstrates the important role the private sector can play in bringing these technologies to market.
'Both companies are committed to emissions reductions in a range of industries, including the steel industry.
'Our Japanese partners and customers are critical to the development of new technologies and approaches to emissions reductions that stand to benefit countries across the globe.'
Mitsubishi Development Pty Ltd (MDP) Managing Director and CEO, Sadahiko Haneji, said this MOU is an important initiative for a company engaging in mineral resource activities in Australia, such as MDP.
'Mitsubishi Corporation Group, and therefore MDP, is committed to simultaneously generating economic value, environmental value, and societal value through all business activities it conducts,' Mr Haneji said.
'In line with this principle and guided by commitment to corporate social responsibility as well as global climate targets, MDP is enhancing its efforts to generate further environmental value, to help society transition to a low-carbon future.
We are confident that this partnership with BHP will help us to achieve our goal, as well as contribute to the sustainable future of our local and global communities.'
BHP and Mitsubishi Development Pty Ltd are reviewing opportunities to undertake research, pilot new ideas, and develop and deploy new emissions reduction technologies.
The collaboration with Mitsubishi Development forms part of BHP's global program of projects in China, Canada, the United States and Australia to progress low emissions technology. This is in addition to the near-term and longer term targets BHP has set for emissions reductions within the Company's global operations.
'At BHP, we work with customers, suppliers and parties along our value chain to influence emissions reductions across the full life-cycle of our products,' Mr Mackenzie said.
'As well as investments in emerging technologies, we set greenhouse gas emissions reduction targets for our operations, we build the resilience of our operations and communities to the physical impacts of climate change, and we work across sectors to strengthen the global policy and market response.'
Latest News
(Posted on 02/06/23)
Rio Tinto plans to invest US$395 million1 in a seawater desalination plant in the Pilbara, Western Australia... Read more
(Posted on 31/05/23)
A new collaboration between BHP and Microsoft has used artificial intelligence and machine learning... Read more
(Posted on 23/05/23)
Bunge and Nutrien Ag Solutions, the retail division of Nutrien Ltd. have announced a strategic alliance... Read more
(Posted on 17/05/23)
Vale has concluded the shipment of its first cargo of iron ore briquettes to be tested in a blast furnace... Read more
(Posted on 12/05/23)
The UK Government's decision to abandon plans to review all EU-derived legislation by the end of 2023... Read more
(Posted on 08/05/23)
The USA's National Grain and Feed Association (NGFA) and 42 other agricultural groups have expressed... Read more
(Posted on 02/05/23)
BHP has announced the completion of the OZ Minerals acquisition and implementation of the scheme of... Read more
(Posted on 02/05/23)
ADM, global leader in nutrition, and one of the leading flour millers in the UK, has for the first time... Read more
(Posted on 28/04/23)
Speaking on behalf of the American Soybean Association and his fellow soy growers, ASA President Daryl... Read more
(Posted on 28/04/23)
Rio Tinto has entered into a binding agreement to acquire the Platina Scandium Project, a high-grade... Read more