Bedeschi supplies Pakistan power hub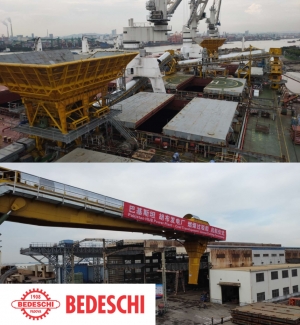 (Posted on 19/08/19)
Bedeschi is are pleased to announce the Sailing Ceremony for River King Master in Guangzhou COSCO Shipyard. Bedeschi designed, manufactured and supplied the Cargo Handling System in accordance with the specified technical requirements and functionalities for this converted vessel for ship-to-ship transshipment of coal to Hub Power Company Limited, being the largest commercial power producer in Pakistan.
Earlier this year, Bedeschi aas been recently awarded and order for a new ship loading system by Cargill, part of the refurbishment and upgrade of an existing facility operating on the Mississippi River. Bedeschi will engineer, manufacture, install and commission (through its U.S.A. branch located in Deerfield Beach, Florida) a shuttle type ship loading arm able to load grains and oilseeds at 80.000 bushels/h (2200 tons/h) on vessels up to 120.000 DWT. The overall features are very similar to the three towers shuttle type shiploader successfully installed in CMT terminal in Convent, a few miles north from this facility.
Bedeschi SpA was established in 1908 and is today one of the oldest European companies specialing in its field. At the beginning of the 20th century the founder, Guglielmo Bedeschi, designed and built a new "extruder" awarded with the Certificate of Honour and the First Degree Gold Metal, during the International Expo in Turin 1909.
Since then the Company has expanded its field of operation under the direction of Bedeschi family; the 4th generation is currently leading the Group. Actual design, engineering and manufacturing with a first class technical assistance are the result of more than 100 years of experience for Customers success.
Latest News
(Posted on 24/03/23)
Bruks Siwertell has secured an order for a next-generation Siwertell road-mobile ship unloader, which... Read more
(Posted on 20/03/23)
Thordon Bearings is supplying its grease-free, self-lubricating ThorPlas-Blue bearing material to a... Read more
(Posted on 20/03/23)
French water treatment specialist BIO-UV Group has appointed Laurent-Emmanuel Migeon as its new Chairman... Read more
(Posted on 07/03/23)
With Wärtsilä's CII Dashboard, Anglo-Eastern is now able to make better informed decisions... Read more
(Posted on 07/03/23)
Bruks Siwertell has completed the commissioning of two large-scale Siwertell ST 790-D-type ship unloaders... Read more
(Posted on 28/02/23)
A consortium including technology group Wärtsilä has secured European Union funding to develop... Read more
(Posted on 28/02/23)
Bruks Siwertell has received an order for a next-generation Siwertell road-mobile ship unloader from... Read more
(Posted on 24/02/23)
Global Survival Technology solutions provider Survitec has introduced a new, formalised pre-inspection... Read more
(Posted on 24/02/23)
The slightest deviation in the machining, polishing, and finishing of ships' propeller blades... Read more
(Posted on 20/02/23)
Bühler expanded its business and improved profitability in an uncertain and volatile business environment... Read more