Bedeschi's new Algeria and USA contracts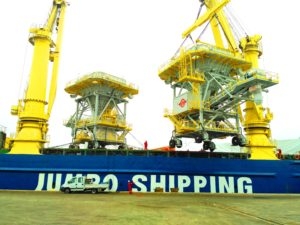 (Posted on 15/11/18)
Bedeschi has been awarded a new contract in Algeria from Zahana Cement Company, a member of GICA Group, for a double roller crusher model RL 850/1500.
The contract is on EPC basis and it includes the supply of the new machine, designed for 500t/h of marl, the removal of the existing machine and the installation of the new crusher with the revamping of the existing electrical board. The commissioning is expected within nine months from contract coming into force date.
This week Bedeschi also shipped two eco hoppers to Houston, Texas. Completely assembled in Chioggia, near Venice, they will arrive fully-erected in the USA.
Bedeschi eco-hoppers are equipped with pulse-jet bag filter with high filtration engineering and less compressed air consumption; an economical and flexible solution to satisfy the highest environmental standards.
Bedeschi's product range covers a wide variety of equipment for Heavy Clay Industry, Bulk Materials Handling, Marine Logistics and Mining.
Latest News
(Posted on 08/02/23)
Campostano Anchor, part of the Campostano Group (CG), has ordered a Generation 6 Konecranes Gottwald... Read more
(Posted on 06/02/23)
Cimbria's strategic focus on financing solutions is supporting development for customers and creating... Read more
(Posted on 06/02/23)
Cargotec's Board of Directors has appointed Casimir Lindholm as Cargotec's new President and CEO as... Read more
(Posted on 27/01/23)
Biofuels are a current and accessible fuel option that can help marine customers decarbonize. Yet while... Read more
(Posted on 27/01/23)
BIO-UV Group has reported a 31% increase in revenues from its maritime business segment, contributing... Read more
(Posted on 23/01/23)
KVH Managed Firewall and Cloud Email value-added services available to commercial fleets to enhance... Read more
(Posted on 23/01/23)
NAVTOR has been announced as the latest industry leader to join the Smart Maritime Network (SMN).The... Read more
(Posted on 16/01/23)
One Sea has welcomed intelligent navigation solutions provider, Orca AI, as the newest member of the... Read more
(Posted on 10/01/23)
Elcome International, a leading provider of maritime systems and integration solutions, is providing... Read more
(Posted on 10/01/23)
Corrosion Products & Equipment (CPE), a specialist engineering firm based in Rochester, New York... Read more