Bedeschi awarded new longitudinal storage contract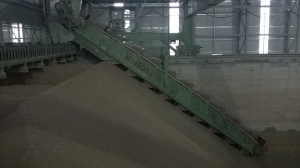 (Posted on 23/10/23)
Bedeschi S.p.a. has been awarded a contract for the design and supply of a new longitudinal storage facility from a long-standing client in the Far East area.
The project equipment for handling very sticky and wet chalk in Europe, includes one stacker STK-P and a tripper car with a capacity of 900 t/h and two reclaimers BEL-C with a capacity of 400 t/h.
Bedeschi Far East developed the project and assists the client for the whole phases of the process.
The system suppled will be similar to the image enclosed.
Bedeschi SpA was established in 1908 and is today one of the oldest European companies specialized in the creation of turn-key solutions for Bulk Handling Material, Container Logistics and Bricks.
At the beginning of the twentieth century founder, Guglielmo Bedeschi, designed and built a new "extruder" and was awarded with the Certificate of Honor and the First Degree Gold Metal, during the International Expo in Turin 1909.
Since then the Company has grown and extend its field of application without losing the advantages and flexibility of a family company.
Latest News
(Posted on 07/12/23)
In an initiative set to be transformational for ship design while protecting the oceans from pollution... Read more
(Posted on 03/12/23)
Ship design, particularly the design of bulk carriers, presents particular challenges when it comes... Read more
(Posted on 26/11/23)
VIKING Life-Saving Equipment, a global leader in maritime safety solutions, is launching an innovative... Read more
(Posted on 26/11/23)
Damen's client Gerdes Green has received a subsidy from the German Government for the investment... Read more
(Posted on 17/11/23)
A first of its kind training course for the Middle East has been held to teach mariners about the basic... Read more
(Posted on 13/11/23)
Wärtsilä ANCS, part of technology group Wärtsilä, has delivered to Seaspan, a marine... Read more
(Posted on 31/10/23)
The flag raising ceremony for three new ASD Tugs has taken place in Gdansk, Poland. In the presence... Read more
(Posted on 26/10/23)
A new immersive crane simulator that can recreate high-risk scenarios without putting drivers or other... Read more
(Posted on 23/10/23)
Vesto Ropes, a global leader in innovative steel wire-rope solutions, has announced a strategic partnership... Read more
(Posted on 18/10/23)
Rhenus Maritime Services (RMS) is adding a new coastal vessel to its fleet in the shape of the RMS Ruhrort... Read more