Bedeschi America to supply Texas handling system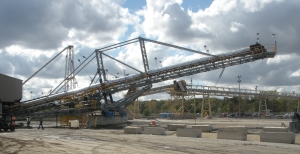 (Posted on 29/04/21)
Vistra Energy Corporation has contracted Bedeschi America for the design and supply of a lignite receiving and handling system located in Southeast Texas. The engineering phase commenced in early 2021 and is to be completed in late summer 2021. Procurement and supply will commence in early 2022. Bedeschi America's supply will include, a new dump truck unloading hopper, a 121 metres stacker feeder conveyor, a 85 metres long fixed height radial stacker, No. 2 reclaim feeders, a 306 metres reclaimer conveyor, a reversing silo feed conveyor, and No. 2 train loading chutes. The full system is rated for 2,000 Tph. The system is expected to come on-line Q4 2022.
Bedeschi SpA was established in 1908 and is today one of the oldest European companies specialising in bulk handling. The fourth generation of the Bedeschi family is currently leading the Group, so actual design, engineering and manufacturing with a first class technical assistance are the result of more than 100 years of experience for Customers success.
For many years Bedeschi has been entrusted by many prestigious clients worldwide to help them overcome various marine infrastructural bottlenecks, both onshore and offshore. These clients have valued the innovativeness and capability of Bedeschi, to understand their exact requirements and to design & implement solutions, which are suited specifically to their projects' requirements.
Latest News
(Posted on 03/12/23)
Ship design, particularly the design of bulk carriers, presents particular challenges when it comes... Read more
(Posted on 26/11/23)
VIKING Life-Saving Equipment, a global leader in maritime safety solutions, is launching an innovative... Read more
(Posted on 26/11/23)
Damen's client Gerdes Green has received a subsidy from the German Government for the investment... Read more
(Posted on 17/11/23)
A first of its kind training course for the Middle East has been held to teach mariners about the basic... Read more
(Posted on 13/11/23)
Wärtsilä ANCS, part of technology group Wärtsilä, has delivered to Seaspan, a marine... Read more
(Posted on 31/10/23)
The flag raising ceremony for three new ASD Tugs has taken place in Gdansk, Poland. In the presence... Read more
(Posted on 26/10/23)
A new immersive crane simulator that can recreate high-risk scenarios without putting drivers or other... Read more
(Posted on 23/10/23)
Vesto Ropes, a global leader in innovative steel wire-rope solutions, has announced a strategic partnership... Read more
(Posted on 23/10/23)
Bedeschi S.p.a. has been awarded a contract for the design and supply of a new longitudinal storage... Read more
(Posted on 18/10/23)
Rhenus Maritime Services (RMS) is adding a new coastal vessel to its fleet in the shape of the RMS Ruhrort... Read more