Bühler and Vyncke form strategic partnership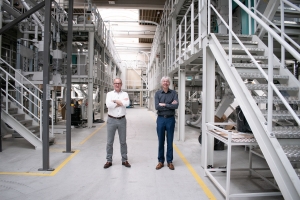 (Posted on 05/03/21)
Bühler Group and Vyncke have formed a strategic partnership to offer integrated solutions with which biomass side stream products are transformed into clean process energy while reducing the customers' carbon footprint. The dependency on fossil fuels – and with this, CO2 emissions – can decrease from 20%-100%, depending on the raw material and side stream products. This means that in some cases, food plants can become fully carbon neutral. The first focus of the partnership is the segments of cocoa, oat, and malt processing. "This partnership is a key element in our strategy to massively reduce CO2 in the value chains of our customers," says Johannes Wick, CEO of Bühler Grains & Food. "Many industries rely on our solutions to reduce their fossil fuel consumption. With Bühler, we now aim to also become the standard to reduce the CO2 footprint of the food industry," says Peter Vyncke, owner of Vyncke. "Together, Bühler and Vyncke can now offer integrated and optimized solutions where economic and ecological benefits go hand in hand."
Biomass by-products are generated in almost all food processes. Typical examples are the processing of grains, rice, corn, and cocoa. Today, by-products are often either used for animal feed or simply disposed of. From biomass by-products, food manufacturers can also produce a climate-neutral form of energy. Unlike the combustion of fossil fuels, the use of biomass energy helps controlling greenhouse gas emissions as the only fraction released corresponds to what the plants previously took from the atmosphere during their growth, which is less than transporting the side stream products to a place where they would be used for feed or disposal. This creates a neutral CO2 cycle. With new equipment, digital services and retrofit offerings, Bühler already made strong progress in making its solutions more energy efficient. "By adding Vyncke's energy recovery processes to our portfolio, we can offer our customers low- to zero-carbon food solutions," says Johannes Wick.
Belgian technology supplier Vyncke specializes in energy production from a wide range of biomass by-products, including industrial or municipal wastes. The range of biomass-based fuels available for energy production is broad; from agricultural and wood residues to sludges from industrial processes, recycled wood, and specially grown energy crops. Vyncke designs and builds green and clean energy systems that combust biomass and waste to produce thermal process energy from 1-100 megawatt hours (Mwh) and electrical energy from 0.5-15 megawatt electrical (Mwe).
Outside of energy-intensive industries, most companies have tended to view energy procurement as a cost to be managed rather than a strategic area in the value chain. Yet today, energy is becoming one of the most important levers for business success. With their cooperation, Bühler Group and Vyncke are addressing this issue to develop solutions for more sustainable food production – with holistic process chains in which energy recovery is integrated so that external energy consumption and energy costs can be reduced. This not only contributes to greater sustainability, but also opens competitive advantages for food producers through greater energy efficiency.
"Today, we are far from exploiting the full potential of recovering energy from side stream products. Our goal is to reduce the energy consumption of a food plant by up to 70%. The beauty of our solutions is that sustainability and economic criteria go hand in hand. Today, we are already enabling our customers to reduce emissions by 2.5 million tons of CO2 annually. By partnering with Bühler, we can further improve and scale these solutions in an integrated approach to create a much larger positive impact," says Peter Vyncke.
Latest News
(Posted on 26/09/23)
Vale has announced that it signed a MOU with the Port of Açu to study the development of a Mega... Read more
(Posted on 26/09/23)
The European Soy Monitor 2021 has been published, containing an overview of estimations on the use of... Read more
(Posted on 19/09/23)
BHP contributed $60 billion (AUD) in economic value to the Australian economy in the 2023 financial... Read more
(Posted on 19/09/23)
BHP contributed $60 billion (AUD) in economic value to the Australian economy in the 2023 financial... Read more
(Posted on 19/09/23)
Trafigura Group Pte Ltd. has announced an evolution of its executive team to further strengthen leadership... Read more
(Posted on 12/09/23)
The Food and Agricultural Organisation of the United Nations (FAO) forecast for global cereal production... Read more
(Posted on 08/09/23)
Rio Tinto has appointed Jérôme Pécresse to lead its Aluminium business, succeeding... Read more
(Posted on 04/09/23)
The Environmental Protection Agency (EPA) and the Army Corps in the USA have announced the final definition... Read more
(Posted on 28/08/23)
Despite the many and varied categories of cargo damage faced by shipowners transporting grain cargoes... Read more
(Posted on 28/08/23)
Rio Tinto and First Quantum Minerals have completed a transaction to form a joint venture that will... Read more