AXSMail deals with overloaded email box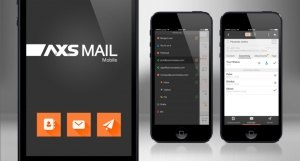 (Posted on 14/09/18)
AXSMarine, a pioneer and market leader in the provision of advanced solutions for shipping professionals, has announced the launch of AXSMail – the web-based collaborative email solution from a new generation.
This latest addition to the company's extensive portfolio optimizes email threads like never before. AXSMail allows users to manage and easily merge multiple email boxes, as well as to work in a private or real-time collaborative mode. Long email threads are replaced by structured exchanges. The solution provides assignment and tracking of co-workers' actions. AXSMail is embedded with collaborative features to create email notes and tags such as "working on it", "read by", "on it".
AXSMail reduces email infrastructure cost and complexity. It can be set up in few minutes and is fully compatible with Office 365. No extra hardware cost or further installations are required. All a user needs is an internet connection to work securely anywhere. The solution can be used side by side, with an existing email system, and is natively adaptable with all email providers.
Mobile users also benefit from the AXSMail App which provides all of the desktop features. Users are tuned-in and never miss a crucial email.
"The first step to exceed your team's cooperation and success is to choose the right communication solution at work", said Jacques Goudchaux, CEO of AXSMarine. "Over the years, I've been experiencing the agony behind the expression "snowed under emails", suffering from overloaded email boxes, multiple communication threads and thousands of unnecessary emails. With AXSReader embedded in AXSMail, commercial data such as open positions and market cargoes is immediately decrypted to safely populate your private database in real-time. AXSMail eliminates all the noise and enables professionals from a wide range of industries to collaborate in real-time as a team, or to keep the communication private as deemed the best appropriate. It's entirely their call and we are delighted to be a step ahead, as usual, in the digital world of today. This is a real game changer."
Latest News
(Posted on 27/09/23)
EMS-Tech Inc., a global leader in engineering and innovation within the dry bulk material handling industry... Read more
(Posted on 26/09/23)
MacGregor, part of Cargotec, has received a significant, more than EUR 25 million order for general... Read more
(Posted on 26/09/23)
HEMEXPO, Hellenic Marine Equipment Manufacturers and Exporters, a leading suppliers and exporters association... Read more
(Posted on 19/09/23)
ClassNK has conducted third-party certification for the CO2 emissions reductions of "JGreeX&trade... Read more
(Posted on 12/09/23)
Charterers can save hundreds of thousands of dollars of unnecessary demurrage costs by drilling down... Read more
(Posted on 08/09/23)
Nippon Kaiji Kyokai (ClassNK) has joined the major classification societies to amend its rules relating... Read more
(Posted on 08/09/23)
On behalf of SLPLUS Holding and based on their trust in Feyz Group's operational capabilities,... Read more
(Posted on 08/09/23)
Leading corporate wellbeing provider OneCare Solutions (OCS) has launched the OneCare Solutions Mobile... Read more
(Posted on 04/09/23)
With CCS-Ready scrubbers now being sold at pace, Wärtsilä's studies across a range of... Read more
(Posted on 04/09/23)
German Ship Repair Jamaica Limited (GSRJ), a private joint venture of German, Turkish and Jamaican investors... Read more