AXSInsights launched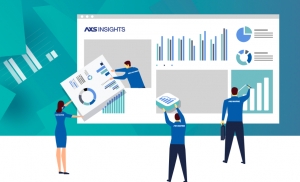 (Posted on 31/03/20)
AXSMarine, a pioneer and market leader in the provision of advanced solutions for shipping professionals, has revealed AXSInsights – an intuitive time-saving portal that replaces manual processes, and makes shipping trend data more actionable, helping companies avoid the learning curve involved with third-party integration.
Founded in 2000, AXSMarine is a global provider of online software solutions to the international shipping industry and is trusted by more than 10,000 users worldwide.
This latest addition to the company's extensive portfolio was born in the search of a balanced solution combining the power of big data and the simplicity of a graphic presentation. AXSInsights lets all of their users take advantage of the intelligence provided by gigantic datasets, without having to examine thousands of numbers for an extensive amount of time.
AXSMarine's solution will be most useful to all shipping professionals who are not full-time analysts, but still need to follow trends and make decisions based on the latest market info available. It utilizes AXSMarine's comprehensive API data, transformed into user-friendly interactive charts. The visualised info is live and updated daily.
AXSInsights includes various pre-set analyses prepared by AXSMarine, as well as virtually unlimited possibilities to create visuals addressing a wide scope of business needs. Current and historical market trends, average speeds by trade, commodity flows, ton-mile analyses, global congestion statistics, next voyage predictions are all there to let a shipping professional easily see what's usually hidden behind raw numbers.
"Thanks to our Trade Flows and API Hub solutions, we've gathered quite the amount of raw data about ship and commodity movements and trends", said Steve Fletcher, CCO at AXSMarine. "All of this data is carefully cleansed and made available in our user-friendly interfaces. Taking our client's feedback into account, we developed it even further.
AXSInsights makes big data visually interactive for everyone. We created it to be brilliant through its simplicity – our enormous datasets are compiled in easily digestible and interactive charts, letting you share fascinating insights with various audiences.
AXSInsights can get you access to millions of data points in a few clicks. It's also fully integrated with our solutions ecosystem. We can help you minimise overhead costs of managing multiple vendors and integrations through our services for your email, filing, content and analytical needs in addition to our core chartering tools.", added Steve.
Latest News
(Posted on 05/06/23)
Digitalisation can only go so far in protecting safe navigation in busy shipping lanes with human involvement... Read more
(Posted on 05/06/23)
Inmarsat Maritime, a Viasat business, and a world leader in global, mobile satellite communications,... Read more
(Posted on 02/06/23)
Belgian logistics and transportation company Zuidnatie NV ordered their first Generation 6 Konecranes... Read more
(Posted on 31/05/23)
Norwegian government agency Statsbygg has awarded Framo the development contract to supply pump systems... Read more
(Posted on 30/05/23)
Technology group Wärtsilä has signed a contract to deliver a Wärtsilä 20&nbsp... Read more
(Posted on 23/05/23)
Bruks Siwertell has secured an order from Senegal Minergy Port SA (SMP) for a high-capacity Siwertell... Read more
(Posted on 17/05/23)
To support the sizeable lumber industry in New Zealand, Liebherr Maritime Cranes has worked with ISO... Read more
(Posted on 14/05/23)
The Desmi Group's general assembly has approved the year end result for 2022 – record-high... Read more
(Posted on 06/05/23)
EMS-Tech, a leading provider of custom designed bulk material handling systems, has opened a new office... Read more
(Posted on 02/05/23)
Technology group Wärtsilä and DNV's industry cloud platform Veracity have entered a... Read more