Automation is key in Ghent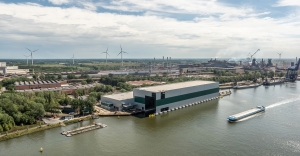 (Posted on 17/12/20)
Over two million tons of high-grade steel coils are handled per year in the All-Weather Terminal (AWT), located next to the premises of Arcelor Mittal steel mill in Ghent, Belgium. The AWT-Ghent was created to store and load steel coils into river barges and sea-going vessels in a covered facility. Thus, the entire operation from production to ship loading can be done in dry conditions without interruptions due to weather.
AWT-Ghent, has chosen Euroports to operate the terminal for a period of at least 20 years. After a careful study of various crane types and brands, Euroports selected Mantsinen cranes via their local distributor Heavy Handling and crane rental company Goeyvaerts-R who rents the machines with a 24/7 technical service to the terminal.
The AWT is an innovative solution that needed to be matched with an innovative and efficient logistics chain. Trains with covered wagons move the steel coils in general directly from Arcelor Mittal's production to the AWT storage building, where they are unloaded by massive automatic overhead cranes.
When a ship is underway for loading, the coils are transferred from the storage to the neighbouring covered quay building. Semi-portal cranes pre-sort the coils into the specific loading sequence. This enables the Mantsinen cranes to be exploited their full potential and load the ships in record time. "AWT allows a continuous operation, so there will be no waste of time nor money. The technology in the material handling machines enables us to take the next step in production figures and achieve better levels of safety. It also supports operators in their work."
The Mantsinen electrical material handling machines bring unprecedented benefits to the day-to-day operations and they also contribute to environmental goals.
Choosing Mantsinen as a partner to this project was easy according to the Technical Project Manager Peter Broers from Euroports. "We already had experience of Mantsinen machines from our Antwerp terminal, so we knew about the benefits. We needed a reliable material handling machine that could handle material with high speeds – up to 30-35 coils per hour. Mantsinen was one of only two players in the world that could provide us that, and due to the quality, reliability and the high level of automatization we ended up choosing Mantsinen 200ES and 300ES material handling machines. We have very high standards for operations, and with Mantsinen we can reach them. For the operators, Mantsinen material handling machines are a heaven; the view is very good. They are light, consistent and safe to use. The overall design is practical and robust."
Latest News
(Posted on 26/11/23)
VIKING Life-Saving Equipment, a global leader in maritime safety solutions, is launching an innovative... Read more
(Posted on 26/11/23)
Damen's client Gerdes Green has received a subsidy from the German Government for the investment... Read more
(Posted on 17/11/23)
A first of its kind training course for the Middle East has been held to teach mariners about the basic... Read more
(Posted on 13/11/23)
Wärtsilä ANCS, part of technology group Wärtsilä, has delivered to Seaspan, a marine... Read more
(Posted on 31/10/23)
The flag raising ceremony for three new ASD Tugs has taken place in Gdansk, Poland. In the presence... Read more
(Posted on 26/10/23)
A new immersive crane simulator that can recreate high-risk scenarios without putting drivers or other... Read more
(Posted on 23/10/23)
Vesto Ropes, a global leader in innovative steel wire-rope solutions, has announced a strategic partnership... Read more
(Posted on 23/10/23)
Bedeschi S.p.a. has been awarded a contract for the design and supply of a new longitudinal storage... Read more
(Posted on 18/10/23)
Rhenus Maritime Services (RMS) is adding a new coastal vessel to its fleet in the shape of the RMS Ruhrort... Read more
(Posted on 18/10/23)
Dualog, a leading maritime software provider, has introduced a major enhancement to the Dualog Drive... Read more