Automatic monitoring of mobile harbour equipment for reliability and safety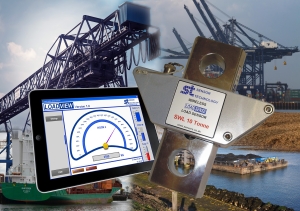 (Posted on 11/10/23)
Sensor Technology Ltd have highlighted how monitoring the work rate of cranes, loaders and unloaders means their performance can be optimised and downtime for maintenance can be scheduled for minimum disruption to operational requirements.
The increasing globalisation of the world economy is pressurising ports, docks and harbours into handling ever-increasing volumes of cargo, so mobile harbour equipment has to work efficiently and reliably at all times.
Importing and exporting of dry bulk cargos, from minerals to grains, fertilisers to cement, wood chips to agricultural products, is almost exclusively a maritime operation. Thus there is a need to load and unload ships and barges, and in the modern world this has to be done quickly, efficiently and safely.
So as the volume requirements of world trade increase, harbour operators must ensure their loading/unloading equipment is in top condition, always available for use, and able to adapt to new operational, commercial and safety requirements.
The best way to maintain such equipment is constant monitoring while it is working. This will allow the work to be totalised so that pre-emptive maintenance scheduling can be optimised, and will also instantly pick up early signs of emerging problems, such as sticking bearings.
The work done is directly related to the totalised load lifted, a parameter that crane and loader operators should also be measuring for both safety and commercial reasons.
Constant load monitoring used to be very difficult, but Sensor Technology has developed the perfect solution. Called LoadSense, it was originally used with helicopters carrying underslung loads in cargo nets and has now been adapted for use on ground-based materials handling equipment.
The technology involves a sensor being fitted to each crane or unloader. Once installed this does not interfere with handling operations at all, but constantly sends real time data via a wireless link to a computer, where it can be displayed, stored, totalised and analysed to provide performance information to the operators and billing information for the customers.
LoadSense is an intelligent load sensor that can easily be integrated with a mobile harbour crane. Designed and manufactured by Sensor Technology in Banbury UK, it is fully automatic so causes no disruption to normal operations. Special training is not required; instead comprehensive and easily understood information becomes instantly available to operators and managers alike.
Latest News
(Posted on 07/12/23)
In an initiative set to be transformational for ship design while protecting the oceans from pollution... Read more
(Posted on 03/12/23)
Ship design, particularly the design of bulk carriers, presents particular challenges when it comes... Read more
(Posted on 26/11/23)
VIKING Life-Saving Equipment, a global leader in maritime safety solutions, is launching an innovative... Read more
(Posted on 26/11/23)
Damen's client Gerdes Green has received a subsidy from the German Government for the investment... Read more
(Posted on 17/11/23)
A first of its kind training course for the Middle East has been held to teach mariners about the basic... Read more
(Posted on 13/11/23)
Wärtsilä ANCS, part of technology group Wärtsilä, has delivered to Seaspan, a marine... Read more
(Posted on 31/10/23)
The flag raising ceremony for three new ASD Tugs has taken place in Gdansk, Poland. In the presence... Read more
(Posted on 26/10/23)
A new immersive crane simulator that can recreate high-risk scenarios without putting drivers or other... Read more
(Posted on 23/10/23)
Vesto Ropes, a global leader in innovative steel wire-rope solutions, has announced a strategic partnership... Read more
(Posted on 23/10/23)
Bedeschi S.p.a. has been awarded a contract for the design and supply of a new longitudinal storage... Read more