Arkhbum bolsters flat car fleet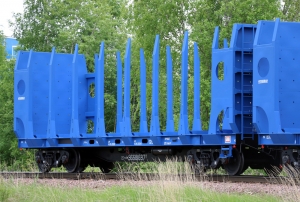 (Posted on 18/10/19)
Research and production corporation "United Wagon Company", Russia's largest manufacturer of freight cars , and Arkhbum, a major operator in the railway services market, have signed an agreement on the supply of an additional batch of 25 timber flat cars fitted with a 25 t axle load bogies to be delivered this October. As a result of the deal, the total number of UWC-produced cars in the transportation company's fleet will rise to 280 units.
The 13-6852-02 flat cars (40 feet) designed to carry timber have an increased loading capacity of 74 t and a higher loading volume of 122 m3 that allows accommodating 10 m3 of freight more into each car. The flat cars are equipped with 18-9855 bogies with a 25 t axle load, which offers significant savings on maintenance costs over the entire service life of the rolling stock (40 years). UWC-produced cars have a longer maintenance interval (up to 1 million km or eight years), while other typical cars available in the market are sent for their first depot repair after running 210,000 km (or three years), with subsequent maintenance and repairs carried out every 110–160,000 km (or three years).
The UWC-produced flat car is designed to the 1-Ta loading gauge and is equipped with solid beams of increased height, meaning that the car can be loaded with no need to form a 'cap' of the freight, while its loading capacity is used to a maximum. Furthermore, the side beams place at equal intervals reduce 'idle' loads when transporting packaged freight and prevent it from being damaged during loading and unloading operations.
The end walls of the flat car represent smooth, solid sheets with external horizontal reinforcement bars ensuring safety of the freight. Special openings in the end walls speed up the inspection procedure at customs checkpoints. The special design of the flooring with drainage holes prevents the accumulation of moisture, simplifies the car cleaning process and prevents residual freight material from falling between the rails.
Vasily Knyrevich, CEO at Arkhbum, said, "Our company handles transportation tasks of any kind. Much of our work depends on acting accurately and using an integrated approach to logistical operations, in particular where it comes to the maintaining the quality and competitiveness of the transported products. Our partnership with UWC has been growing for several years now. The results of operating Tikhvin-produced cars in our fleet have been completely satisfactory, which is why we decided to purchase an additional batch of flat cars for transporting timber. Our business is growing rapidly, and we want to ensure that every solution and technology we are using, is of maximum efficiency."
Arkhbum is one of the largest operators on the railway services market. Its transportation and logistical centre includes a fleet of cars (2,364 units), diesel locomotives (8 units) and a maintenance and repair service.
PJSC "Research and production corporation "United Wagon Company" is a leading railway holding focused on design, manufacture and maintenance of freight cars UWC's annual production capacity is up to 22,000 freight cars and 90,000 tons of railway castings.
Latest News
(Posted on 07/12/23)
In an initiative set to be transformational for ship design while protecting the oceans from pollution... Read more
(Posted on 03/12/23)
Ship design, particularly the design of bulk carriers, presents particular challenges when it comes... Read more
(Posted on 26/11/23)
VIKING Life-Saving Equipment, a global leader in maritime safety solutions, is launching an innovative... Read more
(Posted on 26/11/23)
Damen's client Gerdes Green has received a subsidy from the German Government for the investment... Read more
(Posted on 17/11/23)
A first of its kind training course for the Middle East has been held to teach mariners about the basic... Read more
(Posted on 13/11/23)
Wärtsilä ANCS, part of technology group Wärtsilä, has delivered to Seaspan, a marine... Read more
(Posted on 31/10/23)
The flag raising ceremony for three new ASD Tugs has taken place in Gdansk, Poland. In the presence... Read more
(Posted on 26/10/23)
A new immersive crane simulator that can recreate high-risk scenarios without putting drivers or other... Read more
(Posted on 23/10/23)
Vesto Ropes, a global leader in innovative steel wire-rope solutions, has announced a strategic partnership... Read more
(Posted on 23/10/23)
Bedeschi S.p.a. has been awarded a contract for the design and supply of a new longitudinal storage... Read more