Albwardy Damen's 10th anniversary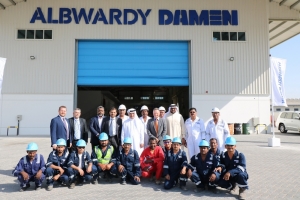 (Posted on 27/11/18)
Albwardy Damen celebrated its tenth anniversary on the 15th of November by officially opening its new ship repair facility at Dubai Maritime City (DMC). Over 100 guests from both the regional maritime industry and the Dubai government joined the Albwardy Damen management team at their new DMC workshop and Dubai HQ for the opening ceremony, followed by lunch on board the famous Queen Elizabeth II (QE2) ocean liner. Albwardy Damen is a joint venture between Albwardy Marine Engineering and the Damen Shipyards Group, and the date also marked the 40th anniversary of the founding of Albwardy Marine Engineering by Ali Albwardy.
Since 2008, Albwardy Damen has grown in size and capability to become one of the leading new build and ship repair yards in the Gulf region. In the first half of 2018 alone, it repaired and built over 100 vessels. Its facilities in Dubai, Sharjah and Fujairah are well known for their technical excellence and commitment to the highest safety, quality and environmental standards. The new site at DMC enhances this capability even further by giving the joint venture a state-of-the-art facility in a strategic location at the heart of Dubai. This benefits not only the customers of Albwardy Damen, but also contributes to the local economy and the success of the UAE Maritime Vision 2030 programme.
Ali Albwardy, Chairman and Director of Albwardy Investment, stated; "The primary aim of the company has always been to offer its current and potential customers the ultimate in service excellence. Albwardy Damen's tremendous growth over the past ten years is a strong testament to its never-ending pursuit of technical innovation and its dedication to providing services according to the satisfaction of consumers."
Lars Seistrup, Managing Director of Albwardy Damen, added; "Our new Dubai facility allows us to deliver the same exceptional levels of safety and quality as our yard at Sharjah. In addition, Dubai Maritime City is strategically located at the heart of Dubai, making it a highly convenient destination for our customers and one from where we can deliver a second-to-none service."
Albwardy Damen has 1100 employees of 26 nationalities and offers the full range of ship building and ship repair skills, supported by an extensive engineering division. It is certified by LRQA to ISO 9001:2015, ISO 14001, OHSAS 18001 as well as API Q1. Over the past ten years tugs, workboats, dredgers, fast crew suppliers and other vessels from the Damen portfolio have been delivered to local ship owners supporting the regional oil & gas industry and other maritime sectors. Notable successes in 2018 have included the delivery of the world's biggest Rotortug, the ART 100-46 RT Raven, and winning the Shipyard of the Year award at Seatrade Middle East 2018.
Damen Shipyards Group operates 35 shipbuilding and repair yards, employing 12,000 people worldwide. Damen has delivered more than 6,000 vessels in more than 100 countries and delivers some 160 vessels annually to customers worldwide. Based on its unique, standardised ship-design concept Damen is able to guarantee consistent quality. Damen's focus on standardisation, modular construction and keeping vessels in stock leads to short delivery times, low 'total cost of ownership', high resale values and reliable performance.
Latest News
(Posted on 27/09/23)
EMS-Tech Inc., a global leader in engineering and innovation within the dry bulk material handling industry... Read more
(Posted on 26/09/23)
MacGregor, part of Cargotec, has received a significant, more than EUR 25 million order for general... Read more
(Posted on 26/09/23)
HEMEXPO, Hellenic Marine Equipment Manufacturers and Exporters, a leading suppliers and exporters association... Read more
(Posted on 19/09/23)
ClassNK has conducted third-party certification for the CO2 emissions reductions of "JGreeX&trade... Read more
(Posted on 12/09/23)
Charterers can save hundreds of thousands of dollars of unnecessary demurrage costs by drilling down... Read more
(Posted on 08/09/23)
Nippon Kaiji Kyokai (ClassNK) has joined the major classification societies to amend its rules relating... Read more
(Posted on 08/09/23)
On behalf of SLPLUS Holding and based on their trust in Feyz Group's operational capabilities,... Read more
(Posted on 08/09/23)
Leading corporate wellbeing provider OneCare Solutions (OCS) has launched the OneCare Solutions Mobile... Read more
(Posted on 04/09/23)
With CCS-Ready scrubbers now being sold at pace, Wärtsilä's studies across a range of... Read more
(Posted on 04/09/23)
German Ship Repair Jamaica Limited (GSRJ), a private joint venture of German, Turkish and Jamaican investors... Read more