Women at sea still face gender discrimination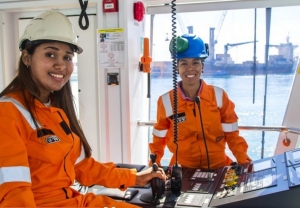 (Posted on 17/05/21)
How can shipping companies support women seafarers' mental wellbeing and eradicate gender discrimination and are they doing enough? These were some of the topics that Sophia Onken, Partner and Clinical Psychologist at Mental Health Support Solutions (MHSS), discussed during the 'Wellbeing For Women In Shipping' webinar on 14 May.
The event organised by MHSS – which provides professional mental health support and guidance across the maritime sector – explored the challenges facing female crewmembers such as sexual harassment, bullying, gender discrimination and the stresses of life aboard a vessel. It also covered resilience strategies for women in shipping, how to improve their wellbeing and the issues that need addressing to improve their working lives.
"When it comes to seafaring, it seems women are often treated as the underdogs," said Ms Onken. "Typical reasons for this include being perceived as inferior to men, receiving unequal treatment to their male counterparts and suffering from verbal or physical sexual harassment."
Ms Onken added that the lack of women in the maritime industry – accounting for just 2% of the workforce – was a major barrier for females at sea. "There is a low ratio of females to males on deck, which could partly explain why their issues aren't addressed at work," she said. "For this reason, more female employment in shipping should be encouraged."
While seafaring is a prime cause of stress-related suicide among men, studies show that mental health issues are also a concern for their female counterparts. "Some women experience work-related stress and physical concerns when aboard a ship, which can lead to suicide attempts," said Christian Ayerst, CEO of MHSS.
Research in recent years highlights some of the issues that women seafarers face when at work. According to a survey on women seafarers' health and welfare, 18% of the 595 women crewmembers who responded said they had been sexually harassed while on board.
"The study clearly shows the need to raise awareness because many women experience unfair treatment at work," Ms Onken said. "One example is not having access to sanitary bins or female-specific products."
The main symptoms for women with physical or mental health problems at sea were joint/back pain, stress/depression/anxiety and headaches, with 55% attributing these issues to their work.
A separate study on women working at sea for Greek-owned shipping companies found that men saw their female counterparts as equals when it came to career success. However, only a minority of men felt that women could perform as well as male crewmembers. The 'Employment of women at sea' report also revealed that most men were unwilling to accept a woman as their superior in the ship's hierarchy or as port captains ashore.
Latest News
(Posted on 24/03/23)
One Sea has welcomeed Finnish start-up Groke Technologies as its new member, bringing additional expertise... Read more
(Posted on 24/03/23)
ClassNK has released "FAQs on the EU-ETS for Shipping", an overview and necessary preparation... Read more
(Posted on 20/03/23)
AXSMarine, a pioneer and market leader in the provision of advanced solutions for shipping professionals... Read more
(Posted on 20/03/23)
Shipzero is enabling transport and logistics companies to create transparency about their emissions... Read more
(Posted on 07/03/23)
The Isle of Man Ship Registry (IOMSR) has become an associate member of The International Association... Read more
(Posted on 07/03/23)
The wellbeing of crew members is becoming more important to shipping companies says leading catering... Read more
(Posted on 28/02/23)
Canada based Algoma Central Corporation has reported its results for the year ended 31 December, 2022... Read more
(Posted on 24/02/23)
Ukrainian seafarers have largely returned to international shipping thereby restoring balance in crew... Read more
(Posted on 24/02/23)
The Chairs of the Round Table of International Shipping Associations met in Athens last week to renew... Read more
(Posted on 21/02/23)
AXSMarine, a leading provider of SaaS shipping software and data for decision making in the chartering... Read more