WISTA signs MoU on International Women's Day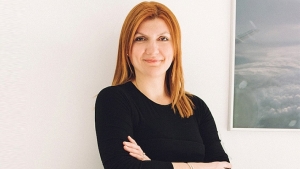 (Posted on 09/03/21)
The importance of diversity and the roles of women in maritime shipping were part of the celebrations for International Women's Day (IWD 2021) which took place on Monday 8 March 2021. Despina Panayiotou Theodosiou, President of WISTA International commented on the day: "The recognition of the vital roles women play in the maritime world have been thrown into even greater perspective by the global pandemic. The importance of the contribution everyone plays in the shipping world, the ports sector and the wider maritime industry cannot be undervalued – and women are an integral part of the solutions that the global economy needs as the slow recovery continues".
WISTA International is an international organization for female managers in the shipping industry. It is comprised of 54 National WISTA Associations (NWA) around the world and more than 3,800 members. WISTA was approved for consultative status with the International Maritime Organization (IMO) in July 2018, providing the organization with a formal voice for supporting IMO work in a variety of areas.
WISTA International also announced that it has signed a new Memorandum of Understanding (MOU) with APEC Seafarers Excellence Network (APEC SEN) to promote and develop joint networks to support both bodies.
The Asia Pacific Economic Cooperation for Seafarers Excellence Network (APEC SEN) is a comprehensive network that promotes the well-qualified, and efficient maritime workforce that maintains the highest standard of the professionalism and ethical conduct in the Asia region and globally.
The MoU was signed on Monday 8 March 2021 and outlines the collaborative and cooperative synergies to support the alignment to the WISTA Mission, the APEC Pillars on Empowerment of Women, and commitment to achieve the UN 2030 Agenda for Sustainable Development and 17 Sustainable Development Goals.
The objectives of this co-operation between two of the most respected groups in maritime campaigning and support are to build a community that will attract and support women in the APEC Region. They will also work together to establish a Mentor-Mentee Network that will empower future generation of maritime women professionals through mentoring seminars and/or international conference via webinars with the main focus on topics related to maritime transport.
Both bodies will work to establish participants from the National WISTA Associations (NWAs) to participate in the APEC Seafarers Excellence Network (SEN) On-Board Training to foster competent young Future Maritime Global Leaders as part of the APEC SEN project.
WISTA's work in gender diversity and their role in supporting women in the maritime sector will be a major part of the co-operation with APEC SEN in establishing the development of a Certificate Course on Empowering Women in the global maritime industry.
Despina Panayiotou Theodosiou, welcomed the announcement of the MoU: "This is a very welcome addition to the strategy we have of working with leading maritime organisations to support diversity in this vital global industry. APEC SEN has the knowledge and support of seafarers, many who are women, who recognise the need to align with other strong bodies to promote our work in shipping and other parts of the world's maritime industry."
Latest News
(Posted on 20/03/23)
AXSMarine, a pioneer and market leader in the provision of advanced solutions for shipping professionals... Read more
(Posted on 20/03/23)
Shipzero is enabling transport and logistics companies to create transparency about their emissions... Read more
(Posted on 07/03/23)
The Isle of Man Ship Registry (IOMSR) has become an associate member of The International Association... Read more
(Posted on 07/03/23)
The wellbeing of crew members is becoming more important to shipping companies says leading catering... Read more
(Posted on 28/02/23)
Canada based Algoma Central Corporation has reported its results for the year ended 31 December, 2022... Read more
(Posted on 24/02/23)
Ukrainian seafarers have largely returned to international shipping thereby restoring balance in crew... Read more
(Posted on 24/02/23)
The Chairs of the Round Table of International Shipping Associations met in Athens last week to renew... Read more
(Posted on 21/02/23)
AXSMarine, a leading provider of SaaS shipping software and data for decision making in the chartering... Read more
(Posted on 20/02/23)
Algoma Central Corporation and The CSL Group, who together form the CSL International Pool have announced... Read more
(Posted on 20/02/23)
Swiss marine power company WinGD has launched a pilot project for a new engine diagnostics solution... Read more