WISTA AGM ratifies new definition of diversity and equity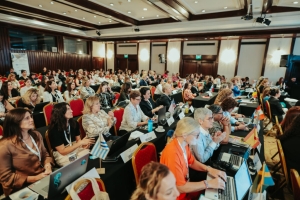 (Posted on 31/10/23)
WISTA International, during its Annual General Meeting (AGM) held in Montevideo, Uruguay, on 25 October 2023, ratified its fresh definition of Diversity, Equity and Inclusion (DEI), reinforcing its commitment to inclusivity in the maritime sector.
WISTA International is a global organization dedicated to promoting women in the maritime and trading industries, with over 3,800 members and a network of over 56 National WISTA Associations (NWAs) worldwide.
With a primary aim of empowering women and magnifying their role in the maritime domain, WISTA has set the stage for an even more inclusive future. "Diversity, to us, signifies the acknowledgement, respect, and valuation of individual differences," the statement read. The organization believes that championing diversity not only acknowledges the myriad backgrounds and experiences of its members but also serves as a catalyst for innovation, problem-solving, and sound decision-making.
Elpi Petraki, President of WISTA International, highlighted that equity remains at the core of their ethos. "Our concerted effort is towards ensuring fair treatment, access, and opportunities for everyone, irrespective of their unique identities. We are unyielding in our resolve to pinpoint and abolish any barriers that might have previously impeded full participation," she articulated.
WISTA's view on inclusion transcends mere representation. It's about nurturing an environment where everyone feels acknowledged and appreciated and their contributions are fully recognized. The essence of WISTA's DEI definition mirrors its unwavering dedication to cultivating a sector wherein diversity is championed, equity is achieved and inclusion becomes second nature within the maritime, trading, and yachting sectors.
WISTA International's definition of Diversity, Equity, and Inclusion (DEI), as tabled by the Diversity Committee, embodies our comprehensive approach towards creating a diverse, fair and inclusive environment in the maritime and trading sectors. Our understanding of diversity is to embrace various dimensions of identity, including but not limited to race, ethnicity, gender, ability, sexual orientation, neurodiversity and age. While our primary focus remains empowering women and amplifying their voices in the maritime sector, we strive to foster an inclusive environment for all.
Diversity, for us, involves acknowledging, respecting and valuing each individual's differences. We are committed to creating a culture that celebrates diversity, recognizing that a diverse workforce drives innovation, increases profitability, problem-solving and decision-making.
Equity is central to our approach, advocating for fair treatment, access and opportunities for all. Our objective is to identify and eliminate barriers that have hindered full participation in the past and to ensure everyone, regardless of their unique identity, can thrive and reach their full potential.
We perceive inclusion as more than just representation. It involves fostering an environment where everyone feels valued, heard and their contributions are recognized.
Our DEI definition encapsulates our dedication to creating an environment where diversity is celebrated, equity is realized, and inclusion is deeply ingrained into the fabric of the maritime, trading and logistics sectors.
Latest News
(Posted on 07/12/23)
ClassNK has issued Approvals in Principle (AiPs) for four cutting-edge ship designs developed by Marine... Read more
(Posted on 07/12/23)
A smartship partnership bringing together ship management company Laskaridis Shipping, digital technology... Read more
(Posted on 07/12/23)
ABB has launched a new digital tool allowing shipowners, operators and designers to estimate the emission... Read more
(Posted on 03/12/23)
The Dry Bulk and LNG segments have borne the brunt of restricted transits, particularly due to their... Read more
(Posted on 03/12/23)
Columbia Shipmanagement (CSM) is set to further boost operational efficiency on its vessels, as crew... Read more
(Posted on 26/11/23)
Shi.E.L.D. Services has selected Spinergie as its preferred digitized solution provider to monitor and... Read more
(Posted on 26/11/23)
Thousands of cadets and trainees in India will benefit from in-depth wellness training and support thanks... Read more
(Posted on 17/11/23)
As shipping continues its journey to decarbonisation, INTERCARGO will host a special forum in Athens... Read more
(Posted on 13/11/23)
INTERCARGO was deeply saddened and concerned to hear of the reported appalling missile attack on the... Read more
(Posted on 13/11/23)
A new-look Wellness at Sea Awareness Campaign for seafarers, their families and shore staff that &ldquo... Read more