Western Bulk looks to "promising" 2021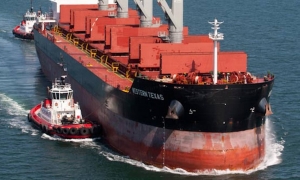 (Posted on 22/03/21)
Oslo-based global dry bulk operator, Western Bulk has published its 2020 Annual Report with a full year net profit after tax of USD 3.2 million and a Net TC result of USD 26.7 million. This is in line with what was published in the 2020 Second half year report and is a satisfying result in the context of the Covid-19 supply chain and marked disruptions encountered throughout 2020.
As the uncertainty related to COVID-19 has come more under control in 2021, Western Bulk has gradually been increasing the volume of vessels from a historically low level in 2020. With a new tonnage function in place, the company has increased period activity and is seeing positive impacts from the work on building relationships with core vessel owners and cargo customers. The new commercial teams are also settling in and value is being created by increased cooperation across teams. Combined with enhanced focus on operational excellence and data driven decisions, there is an expectation of positive development going forward. The prospects for the full year of 2021 are more promising than they have been for several years, although the results for the first half of 2021 are likely to be somewhat dominated by investments in repositioning of vessels and increase of volume.
The company has summoned to an extraordinary general meeting on 26 March 2021 to approve and establish an Employee Share Scheme granting all Western Bulk employees the possibility to purchase shares in the company at a discounted price. As part of the Employee Share Scheme, the executive management consisting of Hans Aasnæs, Egil Husby and Kenneth Thu will subscribe shares for a total of NOK 7.8 million.
During the second half of 2020 we continued to implement our strategy to seek trading excellence, operational excellence and data driven decision making. Combined with an improved market, good choice of trade patterns and lower costs, this led to a Net TC of almost USD 19 million and net profit of USD 6.1 million for the second half of the year.
Latest News
(Posted on 03/12/23)
The Dry Bulk and LNG segments have borne the brunt of restricted transits, particularly due to their... Read more
(Posted on 03/12/23)
Columbia Shipmanagement (CSM) is set to further boost operational efficiency on its vessels, as crew... Read more
(Posted on 26/11/23)
Shi.E.L.D. Services has selected Spinergie as its preferred digitized solution provider to monitor and... Read more
(Posted on 26/11/23)
Thousands of cadets and trainees in India will benefit from in-depth wellness training and support thanks... Read more
(Posted on 17/11/23)
As shipping continues its journey to decarbonisation, INTERCARGO will host a special forum in Athens... Read more
(Posted on 13/11/23)
INTERCARGO was deeply saddened and concerned to hear of the reported appalling missile attack on the... Read more
(Posted on 13/11/23)
A new-look Wellness at Sea Awareness Campaign for seafarers, their families and shore staff that &ldquo... Read more
(Posted on 05/11/23)
Classification society DNV has entered into a Joint Development Project (JDP) with AL Group and its... Read more
(Posted on 31/10/23)
Samsung Heavy Industries (SHI) and leading classification society DNV have inked a Memorandum of Understanding... Read more
(Posted on 31/10/23)
WISTA International, during its Annual General Meeting (AGM) held in Montevideo, Uruguay, on 25 October... Read more