Warrenpoint invests in Konecranes MHC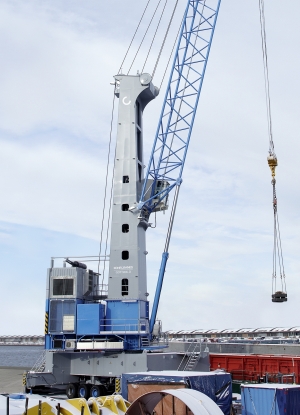 (Posted on 27/06/18)
Warrenpoint Port has ordered a Konecranes Gottwald Model 3 Mobile Harbour Crane. The order is part of the Northern-Irish port's 25-year growth plan.
The new crane will from September 2018 on contribute to a significant improvement of efficiency and increase capacity of Warrenpoint's handling activities. It forms part of a major drive to facilitate continued growth in trade at Northern Ireland's second largest port.
Clare Guinness, CEO, Warrenpoint, commented: "The new crane will ensure we continue to deliver high standards of customer service and help us attract new business to grow annual throughput to over 4 million tonnes. It will allow for increased capacity and efficiency through speedier loading and unloading of goods and reduced downtime. This is the first part of a new significant investment plan at the Port, following the publishing of our Masterplan as we gear up for trade in the post-Brexit era."
Neil Griffiths, Regional Sales & Service Director, Konecranes Port Solutions, explains: "Warrenpoint is the fourth biggest port on the island of Ireland and serves both Northern Ireland and the Republic of Ireland. Warrenpoint currently operates five Konecranes Gottwald Mobile Harbour Cranes, and we are proud that they have again opted for our eco-efficient technology to support their long-term growth. The new crane will help Warrenpoint to further benefit from the port's advantageous geographic situation close to the border with the Republic of Ireland."
Warrenpoint, which in 2017 handled a record 3.56 million tonnes of cargo, valued at approximately EUR 7 billion (£6.2 billion), deals with a broad spectrum of goods including grain, timber, steel and cement and offers a full range of services including container and freight.
The 25-year growth plan, which forecasts a continued growth in trade following Brexit, was unveiled earlier this year. Authorities at the Port, anticipate a significant increase in trade over the coming decades with core roll on, roll off, freight expected to rise by up to 80% by 2040.
The new crane is a Konecranes Gottwald Model 3 Mobile Harbour Crane in the G HMK 3405 two-rope variant. It provides a maximum lifting capacity of 100 tonnes and an outreach of up to 46 m.
Konecranes is a world-leading group of Lifting Businesses™, serving a broad range of customers, including manufacturing and process industries, shipyards, ports and terminals. Konecranes provides productivity enhancing lifting solutions as well as services for lifting equipment of all makes. In 2017, Group sales totaled EUR 3,136 million. The Group has 16,200 employees at 600 locations in 50 countries.
Latest News
(Posted on 20/03/23)
Thordon Bearings is supplying its grease-free, self-lubricating ThorPlas-Blue bearing material to a... Read more
(Posted on 20/03/23)
French water treatment specialist BIO-UV Group has appointed Laurent-Emmanuel Migeon as its new Chairman... Read more
(Posted on 07/03/23)
With Wärtsilä's CII Dashboard, Anglo-Eastern is now able to make better informed decisions... Read more
(Posted on 07/03/23)
Bruks Siwertell has completed the commissioning of two large-scale Siwertell ST 790-D-type ship unloaders... Read more
(Posted on 28/02/23)
A consortium including technology group Wärtsilä has secured European Union funding to develop... Read more
(Posted on 28/02/23)
Bruks Siwertell has received an order for a next-generation Siwertell road-mobile ship unloader from... Read more
(Posted on 24/02/23)
Global Survival Technology solutions provider Survitec has introduced a new, formalised pre-inspection... Read more
(Posted on 24/02/23)
The slightest deviation in the machining, polishing, and finishing of ships' propeller blades... Read more
(Posted on 20/02/23)
Bühler expanded its business and improved profitability in an uncertain and volatile business environment... Read more
(Posted on 20/02/23)
Wärtsilä plans to further focus on end-to-end voyage optimisation and to move part of Voyage... Read more