Wärtsilä Voyage shares tech update at SMM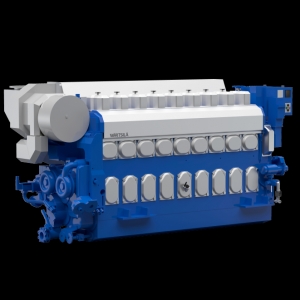 (Posted on 04/02/21)
From unconnected traditional sails to data-driven intelligent ships and ports that make voyages safer, greener and more efficient — this is the vision behind Wärtsilä's Smart Marine Ecosystem drive shared Wärtsilä Voyage's Head of Technology at this year's SMM digital conference.
So far, the maritime industry has had a sluggish and fragmented approach to digitalisation. But 2020 made it evident that shipping needs to pick up its pace towards smarter operations. And Wärtsilä Voyage is bringing that transformation.
"Looking at the upsides — safety, cost-effectiveness, operational and fuel efficiency — the case for maritime digitalisation is not just strong, it is inevitable," said Guillemin. "Now, it's only a matter of implementation, and we have a roadmap drawn for it."
The tech is futuristic, but it is targeted at solving very real problems being faced by the industry presently. Leveraging effective A.I. technologies, Wärtsilä Voyage's solutions address a comprehensive range of key shipping operations. There is a plethora of practical solutions that can create immediate and quantifiable economic value for customers, such as:
Optimised route planning
Real-time vessel tracking
Vessel performance systems to manage speed, propulsion and trim optimisation
Improved ship-to-shore connectivity
Predicting and saving fuel consumption
Eliminating human error to enhance safety
Reducing emissions for better environmental compliance
"To support the marine industry in meeting its decarbonisation targets, Wärtsilä Voyage is constantly researching, developing and investing in a wide range of products and solutions that enable a variety of vessel classes to substantially reduce their emissions," said Guillemin.
'For instance, our Fleet Operations Solution (FOS) and other smart optimisation applications gather real-time data to ensure efficient ship-to-shore and shore-to-ship operations, optimise routes, reduce fuel consumption through trim, speed and propulsion management, while solutions like Wärtsilä Navi-Port ensure 'just-in-time' arrival to avoid unnecessary near-shore anchorage.'
'The data also helps us to continuously learn, improve and update the vessel engine, fuel and propulsion systems.'
"While these solutions are already in place and being implemented, the bigger picture is to rapidly move towards a seamless and interconnected marine ecosystem," added Guillemin.
Moving from silos to integrated ecosystems
Digitalisation is happening but the applications have mostly remained in silos, underutilised. Or completely unexplored due to a hesitation in committing to futuristic tech that may not be compatible with other operations.
Wärtsilä Voyage, therefore, has designed an incremental approach. Customers can start climbing the A.I. ladder with retrofitted solutions and slowly move towards digital-native new builds.
"Our simulators and latest cloud-based training solutions are also a step towards making the transition to A.I. easier for both existing and future crews," adds Guillemin.
Also, digitalising a vessel or a port is just a stepping stone towards building a holistic Smart Marine Ecosystem. Wärtsilä Voyage has developed a unique integrated infrastructure that combines bridge systems, cloud data management, data services, decision support tools, and access to real-time information — resulting in a smarter voyage.
Latest News
(Posted on 26/11/23)
VIKING Life-Saving Equipment, a global leader in maritime safety solutions, is launching an innovative... Read more
(Posted on 26/11/23)
Damen's client Gerdes Green has received a subsidy from the German Government for the investment... Read more
(Posted on 17/11/23)
A first of its kind training course for the Middle East has been held to teach mariners about the basic... Read more
(Posted on 13/11/23)
Wärtsilä ANCS, part of technology group Wärtsilä, has delivered to Seaspan, a marine... Read more
(Posted on 31/10/23)
The flag raising ceremony for three new ASD Tugs has taken place in Gdansk, Poland. In the presence... Read more
(Posted on 26/10/23)
A new immersive crane simulator that can recreate high-risk scenarios without putting drivers or other... Read more
(Posted on 23/10/23)
Vesto Ropes, a global leader in innovative steel wire-rope solutions, has announced a strategic partnership... Read more
(Posted on 23/10/23)
Bedeschi S.p.a. has been awarded a contract for the design and supply of a new longitudinal storage... Read more
(Posted on 18/10/23)
Rhenus Maritime Services (RMS) is adding a new coastal vessel to its fleet in the shape of the RMS Ruhrort... Read more
(Posted on 18/10/23)
Dualog, a leading maritime software provider, has introduced a major enhancement to the Dualog Drive... Read more