Wärtsilä selected for Misje Rederi bulkers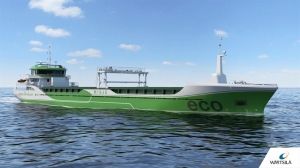 (Posted on 27/11/20)
The technology group Wärtsilä's extensive experience in marine hybrid propulsion solutions will enable a greatly decreased emissions footprint for three newbuild eco-friendly 5,000 dwt bulk carriers.
The 90 metres long ships are being built at the Colombo Dockyard in Sri Lanka for Misje Eco Bulk, a unit of the Norway based Misje Rederi group. The fully integrated Wärtsilä Hybrid Solution will enable the vessels to sail in and out of port, and to perform cargo operations, completely emissions-free. The order with Wärtsilä was signed in October 2020 and includes an option for an additional three vessels.
The development of the efficient and sustainable propulsion solution was carried out from an early stage of the project in close cooperation between Wärtsilä and Misje Eco Bulk. This co-creation approach has enabled a tailored solution that fully meets the owner's requirements regarding reduced operating costs, operational flexibility, and environmental sustainability. The vessels are designed to be converted to full zero emissions operation as the technology develops.
"This newbuild project is in line with our ambition to have one of the world's cleanest and most sustainable fleets. Our collaboration with Wärtsilä, and their deep understanding and know-how of hybrid technology, make this ambition achievable, and we see great benefit in this very strong integrated solution to us as the owner from a lifecycle perspective," says Roald Misje, Technical Manager, Misje Rederi.
"We are extremely honoured to have worked closely with Misje Eco Bulk to develop this fully integrated hybrid propulsion solution, which represents a new overall benchmark for bulk carriers in terms of operational flexibility, high efficiency, and low emission levels. We look forward to continuing our good collaboration with both Misje and Colombo Dockyard during the construction and commissioning of these ground-breaking vessels," says Grant Gassner, Director Integrated Systems and Solutions, Wärtsilä Marine Power..
The Wärtsilä scope of supply includes a Wärtsilä 20 main engine, the Wärtsilä NOx Reducer (NOR), the power transmission system, the controllable pitch propeller (CPP), The Wärtsilä ProTouch bridge control system, the electrical and automation systems, the hybrid battery solutions, energy management system (EMS), transformers, motors and shaft line. The EMS functions as the 'brain' in the Wärtsilä Hybrid solution optimising the energy flows between the different power sources, storage and consumers to achieve the highest efficiency possible.
Delivery of the equipment will commence in autumn 2021, and the first of the three ships is scheduled to enter service in mid-2022. The subsequent vessels will be delivered at four month intervals.
Latest News
(Posted on 26/11/23)
VIKING Life-Saving Equipment, a global leader in maritime safety solutions, is launching an innovative... Read more
(Posted on 26/11/23)
Damen's client Gerdes Green has received a subsidy from the German Government for the investment... Read more
(Posted on 17/11/23)
A first of its kind training course for the Middle East has been held to teach mariners about the basic... Read more
(Posted on 13/11/23)
Wärtsilä ANCS, part of technology group Wärtsilä, has delivered to Seaspan, a marine... Read more
(Posted on 31/10/23)
The flag raising ceremony for three new ASD Tugs has taken place in Gdansk, Poland. In the presence... Read more
(Posted on 26/10/23)
A new immersive crane simulator that can recreate high-risk scenarios without putting drivers or other... Read more
(Posted on 23/10/23)
Vesto Ropes, a global leader in innovative steel wire-rope solutions, has announced a strategic partnership... Read more
(Posted on 23/10/23)
Bedeschi S.p.a. has been awarded a contract for the design and supply of a new longitudinal storage... Read more
(Posted on 18/10/23)
Rhenus Maritime Services (RMS) is adding a new coastal vessel to its fleet in the shape of the RMS Ruhrort... Read more
(Posted on 18/10/23)
Dualog, a leading maritime software provider, has introduced a major enhancement to the Dualog Drive... Read more