Viking spearheads life-saving foam testing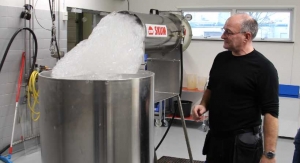 (Posted on 06/12/20)
VIKING Life-Saving Equipment is driving more investment into its marine fire service business. The inauguration of VIKING's Foam Lab Odense, which specialises in the testing of a vessel's reserves of firefighting foam, intensifies the company's focus on marine fire service, a segment earmarked for significant growth in the coming years.
"Our ambition is to cover all aspects of marine firefighting equipment, and our new state-of-the-art laboratory puts us on the global map in this segment, too. Our class approvals comply with IMO regulations for testing all foam types, and we expect to receive DANAK accreditation in the course of 2021 as the ultimate stamp of approval for our work," says Anders Nørgaard Lauridsen, head of VIKING's activities in and around the Baltic region.
If a vessel's foam is over three years old, it is mandatory for the vessel to undergo an annual foam test at a reputable laboratory. VIKING can offer a simple, user-friendly package solution, whereby shipowners purchase a test kit comprising a container for collecting a foam sample, instructions on how to take the sample on board and a prepaid shipping label. When the foam is received at the lab, it is subjected to a barrage of tests to establish degree of expansion, drainage time, pH value, density and contamination, to ensure - among other things - that the foam will effectively extinguish a fire. A service check list and data are saved electronically via an iPad, and a certificate is issued to verify completion of the test. This ensures traceability and enables monitoring of the condition of the foam.
There are two specialists at the foam lab, both able to perform a variety of tests, including low and high expansion tests, chemical resistance tests, small scale fire tests and conductivity tests. When foam samples are received, they are heat-treated for 24 hours before being mixed with saline solution and subjected to a meticulous testing program, defined according to current IMO standards.
"VIKING's Marine Fire Service strategy will initially handle more than 1,000 foam samples a year, which we'll receive directly from global shipowners and our servicing stations," says Anders Nørgaard Lauridsen.
Ove Andersen joined VIKING in mid-May to head Foam Lab Odense. He is a qualified marine engineer and has extensive experience, gained from 15 years as an operations manager in the district heating sector and subsequently from his three years at the DFL fire testing laboratory in Svendborg, Denmark. He is wholly familiar with international test standards and quality management systems, including IMO1312, IMO670, other regulations for foam testing and requirements for test equipment.
"The thought of building something from scratch at VIKING appealed to me. There are relatively few, yet important, standards for this segment, and from my background in the fire sector, I can say that it's vital for vessels to have good quality foam on board – particularly foam that's expandable and has adequate drainage time. The same applies here as to other VIKING products: human lives are at stake," says Ove Andersen.
Latest News
(Posted on 07/12/23)
In an initiative set to be transformational for ship design while protecting the oceans from pollution... Read more
(Posted on 03/12/23)
Ship design, particularly the design of bulk carriers, presents particular challenges when it comes... Read more
(Posted on 26/11/23)
VIKING Life-Saving Equipment, a global leader in maritime safety solutions, is launching an innovative... Read more
(Posted on 26/11/23)
Damen's client Gerdes Green has received a subsidy from the German Government for the investment... Read more
(Posted on 17/11/23)
A first of its kind training course for the Middle East has been held to teach mariners about the basic... Read more
(Posted on 13/11/23)
Wärtsilä ANCS, part of technology group Wärtsilä, has delivered to Seaspan, a marine... Read more
(Posted on 31/10/23)
The flag raising ceremony for three new ASD Tugs has taken place in Gdansk, Poland. In the presence... Read more
(Posted on 26/10/23)
A new immersive crane simulator that can recreate high-risk scenarios without putting drivers or other... Read more
(Posted on 23/10/23)
Vesto Ropes, a global leader in innovative steel wire-rope solutions, has announced a strategic partnership... Read more
(Posted on 23/10/23)
Bedeschi S.p.a. has been awarded a contract for the design and supply of a new longitudinal storage... Read more