VIKAND Partners with the Global Maritime Forum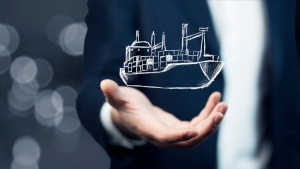 (Posted on 21/02/22)
Maritime Medical and Public Health specialist VIKAND has announced that it is partnering with the Global Maritime Forum to work collaboratively with liked-minded shipping companies to establish robust ecosystems to help improve seafarer human sustainability.
This initiative concurs with the Global Maritime Forum's founding principle which is to provide a platform for collaboration between international maritime businesses to increase sustainable long-term economic development and human wellbeing.
Commenting on the partnership Peter Hult, VIKAND's CEO said: "We're really determined to work with the shipping community to find solutions that will raise the standards of human sustainability within the maritime industry and by that I don't just mean looking after seafarers' health needs but raising their working conditions in totality; from their onboard accommodation, internet access availability, catering facilities and making sure they get paid on time, every time."
"The Global Maritime Forum has a strong focus on human sustainability in shipping and collaborating with them will provide an excellent springboard to exchange ideas on how we, as an industry, can work together to come up with better solutions to create a 'Culture of Care' onboard."
VIKAND is already working with key industry organisations to develop a Seafarer Human Sustainability Charter which it will launch at the US Ambassador's residence in Oslo during Nor-Shipping.
The aim of the Charter is to encourage maritime businesses to work collaboratively to establish robust ecosystems providing the best in healthcare, connectivity, insurance, working environments and payment solutions for seafarers and their families.
"I am very pleased to welcome VIKAND on board in the Global Maritime Forum community, as I am sure they will add value and diversity to our collaborative platform, both at the Annual Summit and through engaging in the workstreams working to find solutions to the challenges facing the maritime industry, "said CEO at the Global Maritime Forum, Johannah Christensen.
Latest News
(Posted on 24/03/23)
One Sea has welcomeed Finnish start-up Groke Technologies as its new member, bringing additional expertise... Read more
(Posted on 24/03/23)
ClassNK has released "FAQs on the EU-ETS for Shipping", an overview and necessary preparation... Read more
(Posted on 20/03/23)
AXSMarine, a pioneer and market leader in the provision of advanced solutions for shipping professionals... Read more
(Posted on 20/03/23)
Shipzero is enabling transport and logistics companies to create transparency about their emissions... Read more
(Posted on 07/03/23)
The Isle of Man Ship Registry (IOMSR) has become an associate member of The International Association... Read more
(Posted on 07/03/23)
The wellbeing of crew members is becoming more important to shipping companies says leading catering... Read more
(Posted on 28/02/23)
Canada based Algoma Central Corporation has reported its results for the year ended 31 December, 2022... Read more
(Posted on 24/02/23)
Ukrainian seafarers have largely returned to international shipping thereby restoring balance in crew... Read more
(Posted on 24/02/23)
The Chairs of the Round Table of International Shipping Associations met in Athens last week to renew... Read more
(Posted on 21/02/23)
AXSMarine, a leading provider of SaaS shipping software and data for decision making in the chartering... Read more