Veteran to lead Superior's sales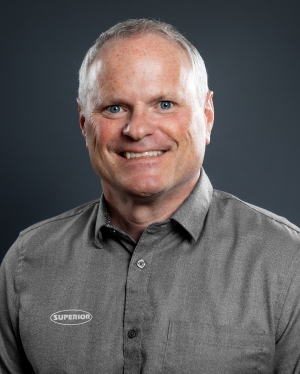 (Posted on 28/03/21)
Superior Industries, Inc., a U.S.-based manufacturer and global supplier of bulk material processing and handling systems, has announced the appointment of Jeff Gray as its director of international sales. Gray, a 25-year industry veteran, will lead construction aggregate sales efforts outside of the United States and Canada in addition to working closely with the manufacturer's group of mining division employees and products.
"Many of us have gotten to know Jeff over the years and he has a lot of fans inside Superior" says John Garrison, vice president of sales for the manufacturer. "He's extremely knowledgeable about crushing and screening, is passionate about serving others, and will fit very well into our culture."
Gray comes to Superior after almost 25 years at Astec, most recently as the company's key accounts and systems director. Before that he served in various positions with Astec's Telsmith brand, including vice president of sales and marketing.
"There is so much opportunity for Superior and our growing distribution network as we continue introducing our people, products and problem-solving culture to new countries and regions," says Garrison. "We're excited for our customer to work with Jeff and his new team at Superior and take advantage of this awesome opportunity!"
From Rock Face to Load Out, Superior Industries engineers and manufactures groundbreaking bulk material processing and handling equipment and cutting-edge components. From its headquarters in Morris, Minnesota, USA, the manufacturer supplies bulk crushing, screening, washing and conveying systems plus all related parts and services for industries like aggregates and mining. In addition to its home plant, Superior operates from three additional U.S. facilities, plus international factories in Canada, Brazil and China.
Latest News
(Posted on 26/11/23)
VIKING Life-Saving Equipment, a global leader in maritime safety solutions, is launching an innovative... Read more
(Posted on 26/11/23)
Damen's client Gerdes Green has received a subsidy from the German Government for the investment... Read more
(Posted on 17/11/23)
A first of its kind training course for the Middle East has been held to teach mariners about the basic... Read more
(Posted on 13/11/23)
Wärtsilä ANCS, part of technology group Wärtsilä, has delivered to Seaspan, a marine... Read more
(Posted on 31/10/23)
The flag raising ceremony for three new ASD Tugs has taken place in Gdansk, Poland. In the presence... Read more
(Posted on 26/10/23)
A new immersive crane simulator that can recreate high-risk scenarios without putting drivers or other... Read more
(Posted on 23/10/23)
Vesto Ropes, a global leader in innovative steel wire-rope solutions, has announced a strategic partnership... Read more
(Posted on 23/10/23)
Bedeschi S.p.a. has been awarded a contract for the design and supply of a new longitudinal storage... Read more
(Posted on 18/10/23)
Rhenus Maritime Services (RMS) is adding a new coastal vessel to its fleet in the shape of the RMS Ruhrort... Read more
(Posted on 18/10/23)
Dualog, a leading maritime software provider, has introduced a major enhancement to the Dualog Drive... Read more