Vale iron fines shipments improve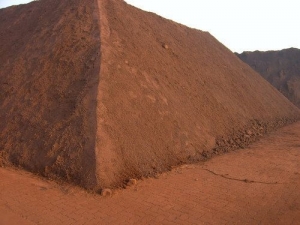 (Posted on 31/07/19)
Vale iron ore fines production and sales showed a substantial improvement in the end of 2Q19 with the increase in shipments in the Northern System and the resumption of Brucutu operations. The combined effects of both events will be felt more considerably in 2H19.
Iron ore fines production totaled 64.1 Mt in 2Q19, 12.1% and 33.8% lower than 1Q19 and 2Q18, respectively, mainly as a result of the impacts following the Brumadinho dam rupture and the unusual weather-related conditions in the Northern System in April and early May.
As a result of the successful S11D ramp-up, the Northern System achieved a run rate of 215 Mtpy in June and expects to produce around 18.5 Mt to 19.0 Mt per month in 2H19 reaching the 230 Mtpy run rate.
Vale's pellet production[2] totaled 9.1 Mt, 25.5% and 29.3% lower than in 1Q19 and 2Q18, respectively, mainly due to the full stoppage of the Southern System pellet plants during the quarter, following the Brumadinho dam rupture, abnormal rain in the Northern and Southeastern Systems as well as maintenance carried out and at the Tubarão plants.
Vale made substantial progress concerning the 93 Mtpy of Iron Ore production capacity stopped in 1Q19, with the resumption of Brucutu operations on June 22nd, recovering 30 Mtpy of production capacity. Regarding the 60 Mtpy currently curbed, Vale expects that the 30 Mtpy of dry processing production will be gradually resumed starting by the end of this year and the remaining 30 Mtpy, which includes wet processing, is estimated to return in about two to three years.
Iron ore fines and pellet sales volume was 70.8 Mt in 2Q19, 4.5% higher than in 1Q19 and 18.2% lower than 2Q18. Although the production volumes decreased quarter over quarter, sales volumes increased 3.2 Mt due to the consumption of offshore inventories.
As a result of the Brucutu mine restart, Vale reaffirms its 2019 iron ore and pellets sales guidance of 307-332 Mt, as previously announced, and informs that its expected sales volume will move towards the midpoint of the range.
Following the Brumadinho accident, there was a shortage of products to be loaded in the Southern and Southeastern Systems, and therefore a major share of scheduled vessels was redirected to the Ponta da Madeira port in the Northern System. However, the heavy rains in March, April and early May impacted port productivity and loading operations. Therefore, the line-up of ships at the Ponta da Madeira port increased substantially and the consequence was a considerable impact on demurrage costs in 2Q19, thus impacting the C1 cash costs. The São Luís port stay of the ship went from 6 days in January to the peak level of 32 days in May. The issue is being normalized with the July estimate for port stay of the ship at 7 days.
Latest News
(Posted on 26/09/23)
Vale has announced that it signed a MOU with the Port of Açu to study the development of a Mega... Read more
(Posted on 26/09/23)
The European Soy Monitor 2021 has been published, containing an overview of estimations on the use of... Read more
(Posted on 19/09/23)
BHP contributed $60 billion (AUD) in economic value to the Australian economy in the 2023 financial... Read more
(Posted on 19/09/23)
BHP contributed $60 billion (AUD) in economic value to the Australian economy in the 2023 financial... Read more
(Posted on 19/09/23)
Trafigura Group Pte Ltd. has announced an evolution of its executive team to further strengthen leadership... Read more
(Posted on 12/09/23)
The Food and Agricultural Organisation of the United Nations (FAO) forecast for global cereal production... Read more
(Posted on 08/09/23)
Rio Tinto has appointed Jérôme Pécresse to lead its Aluminium business, succeeding... Read more
(Posted on 04/09/23)
The Environmental Protection Agency (EPA) and the Army Corps in the USA have announced the final definition... Read more
(Posted on 28/08/23)
Despite the many and varied categories of cargo damage faced by shipowners transporting grain cargoes... Read more
(Posted on 28/08/23)
Rio Tinto and First Quantum Minerals have completed a transaction to form a joint venture that will... Read more