UWC and Ivanomorsk TPK sign a supply contract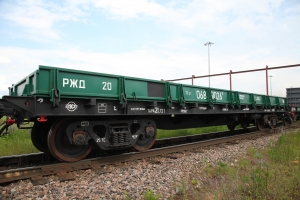 (Posted on 10/12/20)
Research and production corporation «United Wagon Company, Russia's largest manufacturer of freight cars , and Ivanomorsk TPK, LLC have signed a contract on the supply of a batch of universal flat cars mounted on bogies with an axle load of 25 t. The cars will be dispatched to the customer in Q2 to be used for moving freight of PJSC MMC Norilsk Nickel.
The universal flat car, Model 13-6851-04, is designed for transporting different kinds of freight, including wheeled and crawler vehicles, heavyweight containers and tank containers, and specialized containers with a gross weight of 40 t. The flat car is equipped with a Class T3 draw gear having an increased energy absorption capacity to ensure safe transportation of detachable containers with hazardous cargoes.
The flat car is mounted on 18-9855 bogies with an increased axle load of 25 t each, raising the car's load capacity to 77.5 t. The loading length of the flat car is 40 feet. Longer maintenance intervals (up to 1 million km or eight years) of the flat car allow for significant savings on its lifecycle costs. The service life of the car is 40 years.
Andrey Kalinin, Deputy CEO at Ivanomorsk TPK: "We continue deepening our cooperation with United Wagon Company. There were no complaints from our customer MMC Norilsk Nickel regarding the operation of the Tikhvin freight cars we purchased earlier. This is the main point we bear in mind when choosing to acquire another batch of UWC railcars. New generation freight cars have already gained a well-established presence in different market segments owing to their improved specifications, so that we can use them to form a diverse car fleet able to deliver the most efficient transport solutions to our customers."
PJSC "Research and production corporation "United Wagon Company" is a leading railway holding focused on design, manufacture and maintenance of freight cars UWC's annual production capacity is up to 22,000 freight cars and 90,000 tons of railway castings.
Latest News
(Posted on 03/12/23)
Ship design, particularly the design of bulk carriers, presents particular challenges when it comes... Read more
(Posted on 26/11/23)
VIKING Life-Saving Equipment, a global leader in maritime safety solutions, is launching an innovative... Read more
(Posted on 26/11/23)
Damen's client Gerdes Green has received a subsidy from the German Government for the investment... Read more
(Posted on 17/11/23)
A first of its kind training course for the Middle East has been held to teach mariners about the basic... Read more
(Posted on 13/11/23)
Wärtsilä ANCS, part of technology group Wärtsilä, has delivered to Seaspan, a marine... Read more
(Posted on 31/10/23)
The flag raising ceremony for three new ASD Tugs has taken place in Gdansk, Poland. In the presence... Read more
(Posted on 26/10/23)
A new immersive crane simulator that can recreate high-risk scenarios without putting drivers or other... Read more
(Posted on 23/10/23)
Vesto Ropes, a global leader in innovative steel wire-rope solutions, has announced a strategic partnership... Read more
(Posted on 23/10/23)
Bedeschi S.p.a. has been awarded a contract for the design and supply of a new longitudinal storage... Read more
(Posted on 18/10/23)
Rhenus Maritime Services (RMS) is adding a new coastal vessel to its fleet in the shape of the RMS Ruhrort... Read more