US steel imports down in January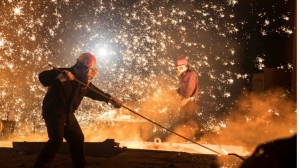 (Posted on 01/03/21)
Based on preliminary Census Bureau data, the American Iron and Steel Institute (AISI) has reported that the U.S. imported a total of 2,422,000 net tons (NT) of steel in January 2021, including 1,239,000 net tons (NT) of finished steel (down 23.1% and 24.8%, respectively, vs. January 2020). Total and finished steel imports are up 62.2% and down 7.5%, respectively, vs. the prior month, December 2020. Finished steel import market share was an estimated 15% in January 2021.
AISI serves as the voice of the North American steel industry in the public policy arena and advances the case for steel in the marketplace as the preferred material of choice. AISI also plays a lead role in the development and application of new steels and steelmaking technology. AISI's membership is comprised of integrated and electric arc furnace steelmakers, and associate members who are suppliers to or customers of the steel industry.
Key finished steel products with a significant import increase in January compared to December are reinforcing bars (up 121%), heavy structural shapes (up 115%), sheets and strip all other metallic coatings (up 20%), structural pipe and tubing (up 29%) and mechanical tubing (up 12%).
In January, the largest volumes of finished steel imports from offshore were from South Korea (131,000 NT, down 41% from December final), Turkey (82,000 NT, up 498%), Japan (46,000 NT, down 17%), Brazil (42,000 NT, up 8%) and United Arab Emirates (31,000 NT, up 152%). Below are charts on estimated steel import market share in recent months and on finished steel imports from offshore by country.
Latest News
(Posted on 26/11/23)
ADM, a leader in sustainable agriculture supply chains, has announced an important expansion of its... Read more
(Posted on 17/11/23)
Trafigura, a market leader in the global commodities industry, has agreed to invest in an all-in-one... Read more
(Posted on 17/11/23)
ADM and Marathon Petroleum Corp. have celebrated the opening of their joint venture soybean processing... Read more
(Posted on 13/11/23)
Former U.S. Grains Council (USGC) Director of Global Programmes Alejandra Castillo was named the successor... Read more
(Posted on 13/11/23)
Rio Tinto has completed the acquisition of PanAmerican Silver's stake in Agua de la Falda and... Read more
(Posted on 05/11/23)
Cargill has completed an expansion and modernization project at its integrated soybean crush and refined... Read more
(Posted on 31/10/23)
BHP has approved an investment of US$4.9 billion (C$6.4 billion) for stage two of the Jansen potash... Read more
(Posted on 31/10/23)
Rio Tinto and cable solution provider Prysmian are partnering to build a more sustainable North American... Read more
(Posted on 26/10/23)
The American Soybean Association has applauded the U.S. Department of Agriculture's efforts to... Read more
(Posted on 26/10/23)
Rio Tinto has appointed James "Joc" O'Rourke as a non-executive director with effect... Read more