Ukraine's agricultural export record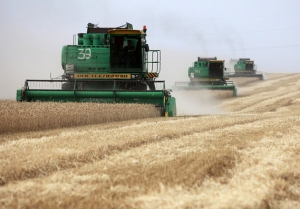 (Posted on 10/02/21)
The share of agro-industrial products in the general structure of exports from Ukraine in 2020 reached 45%, declared the Deputy Director at the National scientific centre "Institute of Agrarian Economics", Academician of the National Academy of Agrarian Sciences (NAAS), Nikolai Pugachev, on 9 February.
"According to the Institute figures, Ukraine exported agricultural products at the sum of 22.391 bln USD in 2020. It exceeded the record of 2019 (22.35 bln USD). Thus, Ukraine has renewed the historical record of agricultural export for the third year in row", said Pugachev.
He added that Ukraine set several other records in 2020. "Record volumes of export were observed for sunflower oil (6.9 mln tonnes) and poultry meat (431 thsd tonnes). Moreover, Ukraine supplied abroad record volumes of honey (81 thsd tonnes), frozen fruits and berries (55 thsd tonnes), pasta (30 thsd tonnes) and canned tomatoes (66 thsd tonnes)."
The growth of agricultural export was based on higher supplies to Asia that reached record 10.9 bln USD in 2020, up 16% from 2019. At the same time, Ukraine cut export to the EU by 11% to 6.7 bln USD, Africa – by 12% to 2.9 bln USD and CIS by 13.3% to 1.3 bln USD.
"Grain and oilseed crops, oils, residues and waste from the food industries as well as meat and by-products remained the core of agricultural export. These products covered 85% of the total value of external supplies in 2020," said Pugachev.
Latest News
(Posted on 07/12/23)
Rio Tinto has approved a $77 million (A$110 million) pre-feasibility study (PFS) to progress development... Read more
(Posted on 03/12/23)
Rio Tinto and Giampaolo Group have completed a transaction to form the Matalco joint venture, combining... Read more
(Posted on 03/12/23)
Khalifa Economic Zones Abu Dhabi – KEZAD Group, the largest operator of integrated and purpose... Read more
(Posted on 26/11/23)
ADM, a leader in sustainable agriculture supply chains, has announced an important expansion of its... Read more
(Posted on 17/11/23)
Trafigura, a market leader in the global commodities industry, has agreed to invest in an all-in-one... Read more
(Posted on 17/11/23)
ADM and Marathon Petroleum Corp. have celebrated the opening of their joint venture soybean processing... Read more
(Posted on 13/11/23)
Former U.S. Grains Council (USGC) Director of Global Programmes Alejandra Castillo was named the successor... Read more
(Posted on 13/11/23)
Rio Tinto has completed the acquisition of PanAmerican Silver's stake in Agua de la Falda and... Read more
(Posted on 05/11/23)
Cargill has completed an expansion and modernization project at its integrated soybean crush and refined... Read more
(Posted on 31/10/23)
BHP has approved an investment of US$4.9 billion (C$6.4 billion) for stage two of the Jansen potash... Read more