Turkish steel exporters eye Far East, South American after US tariff hikes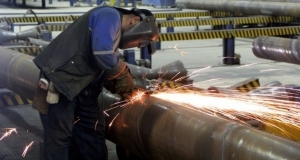 (Posted on 03/09/18)
In the face of additional U.S. tariffs on Turkish steel and aluminum, exporters are looking to explore alternative markets in the Far East and South America.
The move comes after U.S. President Donald Trump announced on Twitter on 10 August that he had approved a doubling of tariffs on steel and aluminum from Turkey.
Speaking to Anadolu Agency (AA), Aegean Ferrous and Non-Ferrous Metals Exporters Association Chairman Yalçın Ertan said that Turkey is the world's eighth largest and Europe's second largest producer of steel.
He said that the sector is growing with new investments every day.
According to Turkish Exporters Assembly (TÄ°M), steel exports reached $8.36 billion in the January-July period this year, with a 27 percent rise compared to the same period last year.
During this period, the largest export destination for Turkish steel was Italy. It was followed by the U.S. with $552 million.
Exports to Far Eastern countries and South American countries, which have been set as the new targets by exporters, stood at $160 million and $225 million, respectively.
Ertan said that the sector exported 1.9 million tons of steel to the U.S. last year. He noted that there is a commercial decline around the globe due to the recent U.S. stance.
"After this implementation, our steel exports to the U.S. have become more difficult. However, we can easily close the gap with exports to Far Eastern and South American countries," he said. He said that the sector is accustomed to this kind of practice and this has actually given them some sense of defiance.
"Like a frontiersman, we can travel all over the world with a bag and sell Turkish steel to the rest of the world," he added.
He said that steel exports to the South American market have gained momentum in recent months and added that exports to Brazil rose by 159 percent to $30 million in the first seven months of the year. "Significant increases have also been recorded in exports to countries like Honduras, Paraguay and Panama," Ertan said.
He claimed that the increase in these markets will continue. "There is a gap in Far East countries emanating from China heading to its own domestic market. Turkish exporters will fill this gap."
Ertan said that Turkish steel entered the U.S. market in 1985 and is one of the most commonly used steels there, both in terms of quality and price.
He stressed that U.S. companies prefer Turkish steel. "But Since Turkish steel does not go there and the U.S. steel production does not meet local demands, steel prices in the U.S. have gone up, pushing it to import more."
Latest News
(Posted on 05/06/23)
Rio Tinto has successfully completed the full transition of its heavy machinery from fossil diesel to... Read more
(Posted on 02/06/23)
Rio Tinto plans to invest US$395 million1 in a seawater desalination plant in the Pilbara, Western Australia... Read more
(Posted on 31/05/23)
A new collaboration between BHP and Microsoft has used artificial intelligence and machine learning... Read more
(Posted on 23/05/23)
Bunge and Nutrien Ag Solutions, the retail division of Nutrien Ltd. have announced a strategic alliance... Read more
(Posted on 17/05/23)
Vale has concluded the shipment of its first cargo of iron ore briquettes to be tested in a blast furnace... Read more
(Posted on 12/05/23)
The UK Government's decision to abandon plans to review all EU-derived legislation by the end of 2023... Read more
(Posted on 08/05/23)
The USA's National Grain and Feed Association (NGFA) and 42 other agricultural groups have expressed... Read more
(Posted on 02/05/23)
BHP has announced the completion of the OZ Minerals acquisition and implementation of the scheme of... Read more
(Posted on 02/05/23)
ADM, global leader in nutrition, and one of the leading flour millers in the UK, has for the first time... Read more
(Posted on 28/04/23)
Speaking on behalf of the American Soybean Association and his fellow soy growers, ASA President Daryl... Read more