Top ranking UWC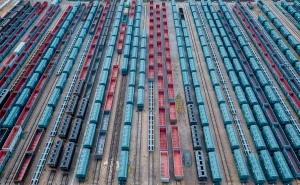 (Posted on 25/06/20)
According to the Ranking of Russia's Top Rolling Stock Manufacturers of 2019 compiled by INFOLine-Analytics, United Wagon Company (UWC, the Group or the Company) was placed first by the number of freight cars produced in Russia (21,000 freight cars) and second among the world's leading manufacturers (after the Chinese CRRC Corporation), jumping up from the third place it held last year.
As reported by INFOLine-Analytics, Russia manufactured a total of 78.2 thousand freight railcars in 2019, which represents an increase of 9.8% year-over-year. The production of freight cars in Russia is expected to fall in 2020 due to the global crisis caused by the coronavirus pandemic, a decline in freight loading and a surplus of cars on the rail network.
PJSC "Research and production corporation "United Wagon Company" (UWC) is a leading railway holding focused on design, manufacture and maintenance of freight cars UWC's annual production capacity is up to 22,000 freight cars and 90,000 tons of railway castings. The holding includes JSC "Tikhvin Freight Car Building Plant", JSC "Tikhvin?hemMash", JSC "TikhvinSpetsMash", and LLC "NPC "Springs", UNICON 1520 (a freight carrier), leasing companies under the brand of RAIL1520, JSC "TAP "Titran-Express" (a railcar maintenance company). The Company holds its own research and development engineering centre. UWC designs and produces freight cars, according to AAR, UIC and GOST standards. Deutsche Bahn assigned UWC Q2 quality status.
Latest News
(Posted on 26/11/23)
VIKING Life-Saving Equipment, a global leader in maritime safety solutions, is launching an innovative... Read more
(Posted on 26/11/23)
Damen's client Gerdes Green has received a subsidy from the German Government for the investment... Read more
(Posted on 17/11/23)
A first of its kind training course for the Middle East has been held to teach mariners about the basic... Read more
(Posted on 13/11/23)
Wärtsilä ANCS, part of technology group Wärtsilä, has delivered to Seaspan, a marine... Read more
(Posted on 31/10/23)
The flag raising ceremony for three new ASD Tugs has taken place in Gdansk, Poland. In the presence... Read more
(Posted on 26/10/23)
A new immersive crane simulator that can recreate high-risk scenarios without putting drivers or other... Read more
(Posted on 23/10/23)
Vesto Ropes, a global leader in innovative steel wire-rope solutions, has announced a strategic partnership... Read more
(Posted on 23/10/23)
Bedeschi S.p.a. has been awarded a contract for the design and supply of a new longitudinal storage... Read more
(Posted on 18/10/23)
Rhenus Maritime Services (RMS) is adding a new coastal vessel to its fleet in the shape of the RMS Ruhrort... Read more
(Posted on 18/10/23)
Dualog, a leading maritime software provider, has introduced a major enhancement to the Dualog Drive... Read more