thyssenkrupp opens new centre in Australia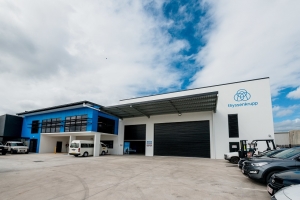 (Posted on 23/05/19)
Oceania thyssenkrupp Industrial Solutions has opened a new service centre in Brisbane, Australia, on 14 May, 2019. The new facility is ideally located to support thyssenkrupp's customer base on the East Coast of Australia as well as clients in Oceania that utilise major logistics channels through Brisbane.
"As we want to offer the best possible services to our customers, we are continuously expanding our service offerings in the regions. Through our investment in Brisbane, we make sure that also our customers on the East Coast of Australia profit from the knowledge and experience thyssenkrupp's global service network offers", says Dr. Donald Weir, CEO of the Service business unit of thyssenkrupp Industrial Solutions.
thyssenkrupp has invested roughly A$1 million in the new service centre. It includes a 350 square meter office and 1,000 square meters of warehouse and workshop space with room for 30 employees. The portfolio includes, among others, the warehousing and servicing of wear and spare parts, equipment refurbishments, engineering and field services and revamps. "This new facility enables us to co-locate our engineering and project staff with our service personnel. For our clients in the mining, cement and chemical industries this means they benefit from an integrated project life-cycle approach, incorporating the latest products and technologies. After having worked successfully with our customers in Australia for many years, this investment was a logical consequence", says Andrew Howie, CEO of thyssenkrupp Industrial Solutions Australia.
The Industrial Solutions business area of thyssenkrupp is a leading partner for the engineering, construction and service of industrial plants and systems. Based on more than 200 years of experience they supply tailored, turnkey plants and components for customers in the chemical, fertilizer, cement, mining and steel industries. As a system partner to the automotive sector thyssenkrupp develop highly specialized solutions to meet the individual requirements of customers. Around 16,000 employees worldwide form a global network with a technology portfolio that guarantees productivity and cost-efficiency to the highest extent possible.
Latest News
(Posted on 31/03/23)
Konecranes has won an order for two Konecranes Gottwald Cranes on Barge from Winning Logistics in Guinea... Read more
(Posted on 31/03/23)
Technology group Wärtsilä has introduced a new radical derating retrofit solution –... Read more
(Posted on 31/03/23)
Thomas Zanzinger, CEO of Ocean Technologies Group (OTG), outlined why he thought many maritime businesses... Read more
(Posted on 28/03/23)
DNV has enhanced its Alternative Fuels Insight (AFI) data platform as part of an effort to accelerate... Read more
(Posted on 24/03/23)
Bruks Siwertell has secured an order for a next-generation Siwertell road-mobile ship unloader, which... Read more
(Posted on 20/03/23)
Thordon Bearings is supplying its grease-free, self-lubricating ThorPlas-Blue bearing material to a... Read more
(Posted on 20/03/23)
French water treatment specialist BIO-UV Group has appointed Laurent-Emmanuel Migeon as its new Chairman... Read more
(Posted on 07/03/23)
With Wärtsilä's CII Dashboard, Anglo-Eastern is now able to make better informed decisions... Read more
(Posted on 07/03/23)
Bruks Siwertell has completed the commissioning of two large-scale Siwertell ST 790-D-type ship unloaders... Read more
(Posted on 28/02/23)
A consortium including technology group Wärtsilä has secured European Union funding to develop... Read more