thyssenkrupp Mining Technologies' new CEO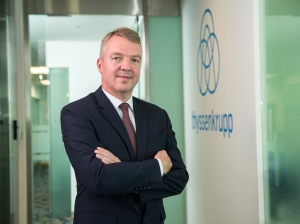 (Posted on 15/10/19)
Effective 1st November, 2019, Jan Lüder will take over as Chief Executive Officer of the
Mining Technologies business unit at thyssenkrupp Industrial Solutions AG. He will succeed
Torsten Gerlach, who is leaving the company. Alongside his new role, Jan Lüder will remain CEO
of the thyssenkrupp AG Asia Pacific Regional Headquarters and CEO of the Lead Local Office of
the Industrial Solutions business area in Southeast Asia for a transition period up to June 30,
Before joining thyssenkrupp, Lüder – who has a degree in engineering – gained extensive
experience in responsible management positions at various international plant engineering and
technology companies including Primetals Technologies China, Siemens Ltd. China, Siemens
VAI Oesterreich and Siemens AG in Germany and Malaysia.
The Industrial Solutions business area of thyssenkrupp is a leading partner for the engineering,
construction and service of industrial plants and systems. Based on more than 200 years of experience
we supply tailored, turnkey plants and components for customers in the chemical, fertilizer, cement,
mining and steel industries. Around 16,000 employees worldwide form a global network with a
technology portfolio that guarantees productivity and cost-efficiency to the highest extent possible.
Latest News
(Posted on 26/11/23)
VIKING Life-Saving Equipment, a global leader in maritime safety solutions, is launching an innovative... Read more
(Posted on 26/11/23)
Damen's client Gerdes Green has received a subsidy from the German Government for the investment... Read more
(Posted on 17/11/23)
A first of its kind training course for the Middle East has been held to teach mariners about the basic... Read more
(Posted on 13/11/23)
Wärtsilä ANCS, part of technology group Wärtsilä, has delivered to Seaspan, a marine... Read more
(Posted on 31/10/23)
The flag raising ceremony for three new ASD Tugs has taken place in Gdansk, Poland. In the presence... Read more
(Posted on 26/10/23)
A new immersive crane simulator that can recreate high-risk scenarios without putting drivers or other... Read more
(Posted on 23/10/23)
Vesto Ropes, a global leader in innovative steel wire-rope solutions, has announced a strategic partnership... Read more
(Posted on 23/10/23)
Bedeschi S.p.a. has been awarded a contract for the design and supply of a new longitudinal storage... Read more
(Posted on 18/10/23)
Rhenus Maritime Services (RMS) is adding a new coastal vessel to its fleet in the shape of the RMS Ruhrort... Read more
(Posted on 18/10/23)
Dualog, a leading maritime software provider, has introduced a major enhancement to the Dualog Drive... Read more