The Maritime Standard Unveils Ports and Logistics'Session of TACCC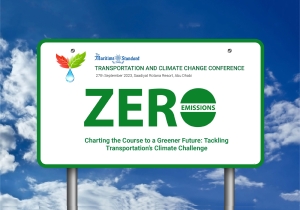 (Posted on 02/08/23)
The Maritime Standard is delighted to announce the unveiling of the second session, titled 'Ports and Logistics,' as part of the upcoming Transportation and Climate Change Conference (TACCC). This session will focus on the crucial role of ports and logistics in driving sustainable transportation practices. It will highlight the initiatives undertaken by leading port operators and cargo-handling technology developers to reduce carbon emissions. The event will take place on September 27, 2023, at the Saadiyat Rotana Resort in Abu Dhabi, UAE, bringing together industry leaders, experts, and stakeholders committed to shaping a greener future for transportation.
Under the tagline "Redesigning Logistics for a green future," the 'Ports and Logistics' session aims to address the challenges posed by climate change by exploring innovative strategies and solutions in port operations, cargo handling, rail connectivity, air cargo, and multimodal networks.
The session will feature engaging presentations by industry experts leading the way in sustainable transportation practices:
Identifying Ports' Contribution to Climate Change Issues and Effective Remedial Measures: An expert specializing in ports and climate change will discuss the environmental impact of ports and present effective remedial measures. The presentation will delve into sustainable practices for port infrastructure, energy usage, and waste management, fostering the transition to greener port operations.
Environmentally-Friendly Cargo Handling Systems: An expert in cargo handling technology and sustainability will focus on powering cargo handling systems in a more environmentally friendly way. The presentation will showcase advanced technologies, equipment, and operational strategies that minimize carbon emissions.
Harnessing Shoreside Power to Reduce Vessel Emissions in Port: A specialist in shoreside power systems and emissions reduction will explore the utilization of shoreside power to mitigate vessel emissions in ports. The presentation will highlight successful implementations, share insights on benefits and challenges.
Rail Connectivity: Switching Land Transport from Road to Rail: A rail transport expert will emphasize the importance of rail connectivity in transitioning from road to rail for land transport. The presentation will showcase successful projects, innovative solutions for intermodal transport, and strategies for incentivizing the shift to reduce emissions.
Short Sea, Coastal, and Inland Waterway Freight: Ports at the Heart of Multimodal Networks, Including Hyper-loops: An expert in short sea, coastal, and inland waterway freight logistics will highlight the significance of these modes of transport and the role of ports in facilitating multimodal networks.
This session aims to accelerate the adoption of sustainable practices within the industry. For more information please visit https://tmstaccc.com/
Latest News
(Posted on 07/12/23)
US Port owners should start immediate planning to take advantage of the $3bn available in grants as... Read more
(Posted on 07/12/23)
The Vancouver Fraser Port Authority's board of directors has announced that it has appointed Peter... Read more
(Posted on 03/12/23)
In the presence of Kassym-Jomart Tokayev, President of the Republic of Kazakhstan, AD Ports Group, a... Read more
(Posted on 03/12/23)
Lhyfe, a global pioneer in the production of renewable green hydrogen for transportation and industrial... Read more
(Posted on 26/11/23)
A 194 million euro investment in North Sea Port will secure large-scale CO2 reduction by the largest... Read more
(Posted on 17/11/23)
The Central Association of German Seaport Operators (ZDS) has called for a decisive German port policy... Read more
(Posted on 13/11/23)
A groundbreaking feasibility study has highlighted the potential for using clean ammonia to refuel ships... Read more
(Posted on 05/11/23)
IAPH has announced the ratification by the IAPH Council of the new IAPH Board. The Board is formed by... Read more
(Posted on 05/11/23)
CN has announced that it acquired from Genesee & Wyoming Inc., a stake in the Cape Breton &... Read more
(Posted on 31/10/23)
Due to continued very high inflation, the Hamburg Port Authority (HPA) will raise port fees by an average... Read more