The future of trading is (more) female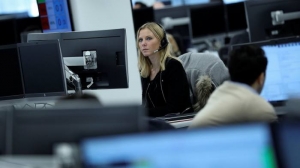 (Posted on 16/03/19)
If you talk to women in trading and risk management roles across Cargill, you will hear a range of ideas for how to improve gender inclusion.
Ensuring that men and women are paid the same for the same performance is crucial. So is a flexible work schedule to balance hectic hours monitoring positions in the market with one's personal life. And mentoring can encourage junior traders to have the confidence to apply for more senior positions.
One thing that women in trading seem to agree on is that culturally, Cargill is ahead of its commodity house peers.
"What's different within Cargill is our inclusion. We treat women with respect. I've always felt that my voice was heard, that there was not a difference if you come with a good trading idea whether you're a woman or a man," said Helene Ziv, who leads a team of 50 people as the risk management and sourcing director for Cargill Animal Nutrition.
Yet it's clear there is still a long way to go. Last year, a Bloomberg article noted that less than 5 percent of senior leaders at commodity trading houses were women. On a statistical basis, Cargill and the entire industry have some catching up to do with other sectors like tech. Women currently constitute 26 percent of the professionals in Cargill's overall trading job family, a 2 percent uptick from last year. They hold 15 percent of the leadership positions in the same space.
"Unless we make a real change in the numbers and the ratios, we can't call it a success," said Rani Misra, who is Cargill's regional treasurer for Asia Pacific and the 2017 recipient of a leadership award from Women in Mining and Resources for being a trendsetter in inclusion and diversity. "The best way to ensure progress is to put targets on leaders' performance metrics and make them accountable."
Ziv agreed: "We need to do much more in terms of promoting women to the top jobs. It will be very difficult to get there without a strong target."
Both Ziv and Misra laud Cargill's progress to date, even as they point out that there is further to go. And for those who have recently moved up into more senior trading roles, the positive culture is definitely a strong incentive.
"I love the culture. As I talk to female colleagues here, it's why they chose Cargill. People can talk equally, and all your mentors are willing to share with you, listen to you, and point you in the right direction," said Mercy Chen, who is the proprietary trading manager on the vegetable oil desk for Cargill Agricultural Supply Chain Asia Pacific.
Cheng Fan is the Supramax trading manager for Cargill Ocean Transportation in Asia Pacific. She is the most senior female trader in that business, and her team oversees 17 million metric tons of dry-bulk cargoes annually.
"In Cargill, I can be myself," she said. "I don't have to try to act like a man. That gives me a lot of space to focus on what I should be focusing on."
Latest News
(Posted on 05/06/23)
Rio Tinto has successfully completed the full transition of its heavy machinery from fossil diesel to... Read more
(Posted on 02/06/23)
Rio Tinto plans to invest US$395 million1 in a seawater desalination plant in the Pilbara, Western Australia... Read more
(Posted on 31/05/23)
A new collaboration between BHP and Microsoft has used artificial intelligence and machine learning... Read more
(Posted on 23/05/23)
Bunge and Nutrien Ag Solutions, the retail division of Nutrien Ltd. have announced a strategic alliance... Read more
(Posted on 17/05/23)
Vale has concluded the shipment of its first cargo of iron ore briquettes to be tested in a blast furnace... Read more
(Posted on 12/05/23)
The UK Government's decision to abandon plans to review all EU-derived legislation by the end of 2023... Read more
(Posted on 08/05/23)
The USA's National Grain and Feed Association (NGFA) and 42 other agricultural groups have expressed... Read more
(Posted on 02/05/23)
BHP has announced the completion of the OZ Minerals acquisition and implementation of the scheme of... Read more
(Posted on 02/05/23)
ADM, global leader in nutrition, and one of the leading flour millers in the UK, has for the first time... Read more
(Posted on 28/04/23)
Speaking on behalf of the American Soybean Association and his fellow soy growers, ASA President Daryl... Read more