Survitec's pre-inspection delivers greater safety servicing efficiencies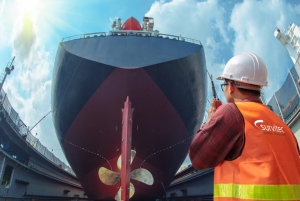 (Posted on 24/02/23)
Global Survival Technology solutions provider Survitec has introduced a new, formalised pre-inspection solution as part of its dry dock safety service to help ship owners and managers optimise and expedite dry docking schedules.
As part of Survitec's fully managed, "safety-first" dry docking solution, the pre-inspection service is designed to support the servicing and inspection of all onboard safety and lifesaving equipment.
A qualified service technician boards the ship during normal port operations to assess and verify the scope of work, with the added benefit of helping to ensure dry dockings don't overrun and ships leave on time, fully certified and within budget.
"It smooths the entire dry docking process," said Survitec Technical Sales Manager, Jan-Oskar Lid. "Advance planning pays dividends in terms of efficiency and transparency for owners and operators to plan and budget accordingly with a full scope of work planned and ready before the vessel enters dry dock.
"A pre-inspection does not have to take place in the same yard or location where the dry dock will take place. This is the advantage of our global service station network."
As part of the service, Survitec teams review and set out a schedule of works in line with regulatory requirements. This includes collating and reviewing the necessary safety certificates and documentation and liaising with the shipyard and suppliers to expedite parts, procurement and equipment servicing.
An additional benefit is that it can also reduce the risk of any unexpected work cropping up during dry docking that could lead to unplanned delays, additional cost and lost revenue.
"The value of a pre-inspection call or visit has been demonstrated time and again over our many years' experience of safety servicing," explained Lid.
"Our trained technicians can identify issues that the ship owner or manager may not have yet recognised or may have been misdiagnosed. For example, one customer ordered a gas top-up for a CO2 low pressure system. During a preparatory call, we were able to identify an underlying issue with the tank and arrange the necessary repairs. If this issue had not been identified until the time of service, the vessel could have been left off hire for longer, causing costly delays to their operating schedule."
Flexibility is a key benefit of the Survitec dry dock safety service. Referring to one project where LNG vessels were initially scheduled to dry dock in Qatar, Lid said: "At the last minute, the customer notified us that two of the vessels would be shifted to Singapore. This was not a problem for us as we have the network and resources to accommodate the change of plan."
As Finn Lende-Harung, Commercial Director – Fire, explained: "With 100+ years' experience as an OEM, we are fully conversant with IMO, Flag, Class and brand requirements for the different equipment and service intervals. We also have a global servicing network and the reach to service at all the major dry dock locations worldwide, in line with a vessel's operational profile."
"All our technicians follow standardised procedures to ensure the level of service, quality and professionalism are the same irrespective of location. From the customer's point of view, they are dealing with a single solution provider, one trusted supplier that solves all the issues."
"Dry dockings are highly complex projects," continued Lende-Harung. "There can never be any cast-iron guarantees that everything will go completely to plan, but our service affords ship owners and managers confidence of compliance, cost transparency and greater certainty that vessels will complete on schedule and with a clean certificate without any unnecessary down-time or drain on resources."
Latest News
(Posted on 27/09/23)
EMS-Tech Inc., a global leader in engineering and innovation within the dry bulk material handling industry... Read more
(Posted on 26/09/23)
MacGregor, part of Cargotec, has received a significant, more than EUR 25 million order for general... Read more
(Posted on 26/09/23)
HEMEXPO, Hellenic Marine Equipment Manufacturers and Exporters, a leading suppliers and exporters association... Read more
(Posted on 19/09/23)
ClassNK has conducted third-party certification for the CO2 emissions reductions of "JGreeX&trade... Read more
(Posted on 12/09/23)
Charterers can save hundreds of thousands of dollars of unnecessary demurrage costs by drilling down... Read more
(Posted on 08/09/23)
Nippon Kaiji Kyokai (ClassNK) has joined the major classification societies to amend its rules relating... Read more
(Posted on 08/09/23)
On behalf of SLPLUS Holding and based on their trust in Feyz Group's operational capabilities,... Read more
(Posted on 08/09/23)
Leading corporate wellbeing provider OneCare Solutions (OCS) has launched the OneCare Solutions Mobile... Read more
(Posted on 04/09/23)
With CCS-Ready scrubbers now being sold at pace, Wärtsilä's studies across a range of... Read more
(Posted on 04/09/23)
German Ship Repair Jamaica Limited (GSRJ), a private joint venture of German, Turkish and Jamaican investors... Read more