Strong demand and diversified vessel portfolio fuels strong Algoma performance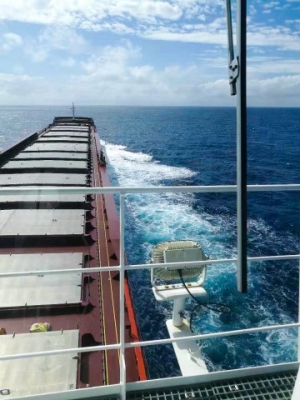 (Posted on 28/02/23)
Canada based Algoma Central Corporation has reported its results for the year ended 31 December, 2022. Algoma owns and operates the largest fleet of dry and liquid bulk carriers operating on the Great Lakes - St. Lawrence Seaway, including self-unloading dry-bulk carriers, gearless dry-bulk carriers and product tankers.
Algoma delivered strong fiscal 2022 results with revenues of $677,942, a 13% increase compared to 2021. The Company also reported a 46% increase in net earnings and an 8% increase in EBITDA(1). All amounts reported below are in thousands of Canadian dollars, except for per share data and where the context dictates otherwise.
"We have been busy this year and our results are reflective of strong markets, steady demand and optimal utilization of our growing vessel portfolio," said Gregg Ruhl, President and CEO of Algoma. "This year, our focused diversification efforts fueled our low carbon investments in fleet renewal, with the expansion of our product tanker fleet in Europe, replacement vessels within our Canadian fleet, and most recently, commitments for two new-build vessels in our ocean self-unloader fleet," continued Mr. Ruhl. "Algoma is nearly fully booked for the 2023 navigation season and our fleets are ready to continue to safely and efficiently meet customer demand delivering cargo for industries that keep the economy moving in Canada and around the world."
Net earnings increased 46% to $119,966 compared to $82,170 last year. Basic earnings per share were $3.17 compared to $2.17 and diluted earnings per share were $2.89 compare to $2.01. Earnings include a $9,977 gain on the sale of a shopping centre located in Sault Ste. Marie, Ontario and an impairment reversal of $10,848 within the Domestic Dry-Bulk segment.
Customer demand appears to be strong in the Domestic Dry-Bulk segment in 2023 and Algoma is preparing for the fleet to be fully utilized for the year. Higher grain volumes are anticipated, driven by the return of Western Canada grain crop size and the continued demand for Eastern Canada export grain capacity.
In international businesses, demand is expected to remain steady with tight vessel supply at the Pool level in our Ocean Self-Unloader segment. Aggregate volumes are expected to continue to be impacted by the closure of a quarry in Mexico and there is some weakness expected to remain in the US residential market but overall construction sector demand remains strong as infrastructure projects are picking up. Five vessels in the Algoma fleet will be dry docked in 2023. In the Global Short Sea Shipping joint venture, revenues from cement carriers are expected to be steady in 2023, with fleet utilization at high levels. On the other hand, mini-bulker and handy-size rates are expected to be at more normal levels over the course of the year, although volumes and utilization are not expected to be affected.
The company is expecting operating expenses to continue to be impacted by inflation as increased costs work their way through supply chains and global fuel prices will likely remain higher than normal, impacting both revenue and operating costs across all segments. Overall, earnings could be negatively impacted in the event of a prolonged recession and events in Ukraine and Europe can significantly impact ocean freight rates, which may negatively affect results in Algoma's global JV's.
Since 2010 Algoma has introduced 10 new build vessels to its domestic dry-bulk fleet, with two under construction and expected to arrive in 2024, making the the youngest, most efficient and environmentally sustainable fleet on the Great Lakes. Each new vessel reduces carbon emissions on average by 40% versus the ship replaced. Algoma also owns ocean self-unloading dry-bulk vessels operating in international markets and a 50% interest in NovaAlgoma, which owns and operates the world's largest fleet of pneumatic cement carriers and a global fleet of mini-bulk vessels serving regional markets.
Latest News
(Posted on 31/03/23)
In line with Norden's 2023-2025 strategy to capitalise on the most attractive opportunities in... Read more
(Posted on 31/03/23)
American Bureau of Shipping, A.P. Moller - Maersk, Fleet Management Limited, Georgia Ports Authority... Read more
(Posted on 31/03/23)
Although news teams might have moved on to other locations and different crises, for those Turks and... Read more
(Posted on 28/03/23)
The board of Oldendorff Carriers, has appointed Patrick Hutchins as the new President and CEO of the... Read more
(Posted on 28/03/23)
The Swedish Club is looking to the future with the expansion and restructuring of the Club's management... Read more
(Posted on 24/03/23)
One Sea has welcomeed Finnish start-up Groke Technologies as its new member, bringing additional expertise... Read more
(Posted on 24/03/23)
ClassNK has released "FAQs on the EU-ETS for Shipping", an overview and necessary preparation... Read more
(Posted on 20/03/23)
AXSMarine, a pioneer and market leader in the provision of advanced solutions for shipping professionals... Read more
(Posted on 20/03/23)
Shipzero is enabling transport and logistics companies to create transparency about their emissions... Read more
(Posted on 07/03/23)
The Isle of Man Ship Registry (IOMSR) has become an associate member of The International Association... Read more