Star Bulk grows fleet with kamsarmax acquisitions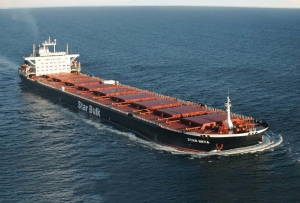 (Posted on 05/03/21)
Star Bulk Carriers Corp., a global shipping company focusing on the transportation of dry bulk cargoes has announced that it has entered into a definitive agreement with a third party pursuant to which the Company will acquire two (2) ECO type resale 82k dwt Kamsarmax vessels.
The vessels are expected to be delivered to the Company in June and September 2021 respectively directly from YAMIC yard (a joint venture between Mitsui and New Yangzijiang). The Company is in advanced discussions with leading financial institutions to finance the largest part of the purchase price at competitive financing terms.
Petros Pappas, Chief Executive Officer of Star Bulk, commented: "In view of the changing regulatory environment with regards to carbon emissions, we believe that the acquisition of these two resale vessels, further contributes to our fleet renewal efforts and initiatives. Their 3 to 6-month prompt delivery, combined with an attractive purchase price and the strong fundamentals of the Kamsarmax and dry bulk sector overall, ensure this transaction adds value to the Company and to our shareholders."
Star Bulk's vessels transport major bulks, which include iron ore, minerals and grain, and minor bulks, which include bauxite, fertilizers and steel products. Star Bulk was incorporated in the Marshall Islands on December 13, 2006 and maintains executive offices in Athens, Oslo, New York, Limassol and Singapore. Its common stock trades on the Nasdaq Global Select Market under the symbol "SBLK". Star Bulk will operate on a fully delivered basis a fleet of 128 vessels, with an aggregate capacity of 14.1 million dwt, consisting of 17 Newcastlemax, 22 Capesize, 2 Mini Capesize, 7 Post Panamax, 41 Kamsarmax, 2 Panamax, 20 Ultramax and 17 Supramax vessels with carrying capacities between 52,425 dwt and 209,537 dwt.
Latest News
(Posted on 24/03/23)
One Sea has welcomeed Finnish start-up Groke Technologies as its new member, bringing additional expertise... Read more
(Posted on 24/03/23)
ClassNK has released "FAQs on the EU-ETS for Shipping", an overview and necessary preparation... Read more
(Posted on 20/03/23)
AXSMarine, a pioneer and market leader in the provision of advanced solutions for shipping professionals... Read more
(Posted on 20/03/23)
Shipzero is enabling transport and logistics companies to create transparency about their emissions... Read more
(Posted on 07/03/23)
The Isle of Man Ship Registry (IOMSR) has become an associate member of The International Association... Read more
(Posted on 07/03/23)
The wellbeing of crew members is becoming more important to shipping companies says leading catering... Read more
(Posted on 28/02/23)
Canada based Algoma Central Corporation has reported its results for the year ended 31 December, 2022... Read more
(Posted on 24/02/23)
Ukrainian seafarers have largely returned to international shipping thereby restoring balance in crew... Read more
(Posted on 24/02/23)
The Chairs of the Round Table of International Shipping Associations met in Athens last week to renew... Read more
(Posted on 21/02/23)
AXSMarine, a leading provider of SaaS shipping software and data for decision making in the chartering... Read more