Solid results from Algoma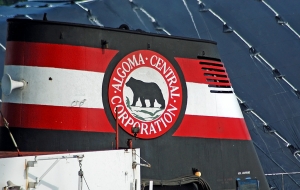 (Posted on 10/08/20)
Algoma Central Corporation, a leading provider of marine transportation services, has announced its results for the three and six months ended June 30, 2020.
Second quarter ended June 30, 2020 highlights include (in 000s Canadian dollars) operating earnings $28,999, an increase of 3% or $916 compared to the same period in 2019. Increases in operating earnings resulting from growth in the size of Ocean Self-Unloader and Tanker fleets were partially offset by lower dry-bulk volumes caused by the impact of COVID-19 on customers in both our ocean and domestic business units. Revenues were $151,270 compared to $159,169 for the 2019 quarter. Revenues in all business units were affected by lower fuel cost recovery charges and lower levels of customer demand.
Operating earnings for Domestic Dry-Bulk were $19,429, up 5% compared to $18,570 in 2019, as higher freight rates and cost mitigation actions offset the impact of reduced volumes in certain customer sectors. Operating earnings in Ocean Self-Unloaders were $3,749, down 13% compared to $4,316 for 2019. Decreases in Pool volumes, particularly in the construction sector, and the impact of scheduled dry-dockings drove this decrease, despite the increase in the fleet size. Net earnings were $17,742 compared to $22,113 for 2019, as higher interest and tax costs, combined with reduced earnings from joint ventures, more than offset the improvement in operating earnings.
"First and foremost, these solid results demonstrate the resilience of our people," said Gregg Ruhl, President and Chief Executive Officer of Algoma. "Because of their passion for their work, for Algoma and for the customers and industries we serve, our operations never missed a beat even as the impacts of COVID-19 hit just as we were fitting out many of our vessels for the 2020 season." Mr. Ruhl continued, "Our results also demonstrate the resilience of our business model. We were able to right-size our operating fleet quickly in the face of reduced demand, keeping our most efficient and modern tonnage fully and profitably trading by idling older, less profitable vessels. Our pricing also largely remained firm in the face of a sudden supply/demand imbalance, as our book of business is made up primarily of longer term arrangements with our customers."
Algoma owns and operates the largest fleet of dry and liquid bulk carriers operating on the Great Lakes - St. Lawrence Waterway, including self-unloading dry-bulk carriers, gearless dry-bulk carriers, cement carriers, and product tankers. Algoma also owns ocean self-unloading dry-bulk vessels operating in international markets and a 50% interest in NovaAlgoma, which owns and operates a diversified portfolio of dry-bulk fleets serving customers internationally.
Latest News
(Posted on 08/02/23)
The technology group Wärtsilä has successfully retrofitted an inline shaft generator system... Read more
(Posted on 08/02/23)
The operational performance of a vessel is set to be boosted with an innovative new digital solution... Read more
(Posted on 06/02/23)
Inland shipping construction yard Concordia Damen will deliver two 'CDS Dry Cargo 110' vessels to Amer... Read more
(Posted on 06/02/23)
A.M.Best Ratings Services Ltd has affirmed its Financial Strength Rating of A- (Excellent) and the Long... Read more
(Posted on 27/01/23)
ClassNK has issued an Approval in Principle (AiP) for a large ammonia fuelled 210,000 DWT bulk carrier... Read more
(Posted on 27/01/23)
Investors in middle aged dry bulk tonnage may be cheered by the impact of sustained higher recycled... Read more
(Posted on 27/01/23)
As one of the most important strategic maritime passages in the world, linking the Indian and Pacific... Read more
(Posted on 23/01/23)
OSM Maritime Group and Thome Group have agreed to a merger of the two companies. By joining forces,... Read more
(Posted on 23/01/23)
In a pivotal move aimed at further strengthening The Swedish Club's long-term position in the... Read more
(Posted on 16/01/23)
International crewing expert Danica Crewing Specialists now has a presence in Mumbai, boosting its recruitment... Read more