Solid results for Algoma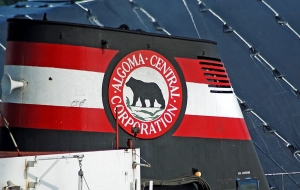 (Posted on 02/03/20)
Algoma Central Corporation, has announced its results for the year ended December 31, 2019. Algoma owns and operates the largest fleet of dry and liquid bulk carriers operating on the Great Lakes - St. Lawrence Waterway, including self-unloading dry-bulk carriers, gearless dry-bulk carriers, cement carriers, and product tankers. Algoma also owns ocean self- unloading dry-bulk vessels operating in international markets and a 50% interest in NovaAlgoma, which owns and operates a diversified portfolio of dry-bulk fleets serving customers internationally.
Operating earnings for 2019 grew 26% compared to fiscal 2018 operating earnings.
Fiscal 2019 highlights include:
Completed the mid-year acquisition of three vessels in the ocean self-unloader business, bringing the number of Algoma vessels in the fleet to eight. The larger fleet size contributed to a 46% increase in operating earnings, driven by growing customer demand, higher volumes and improved freight rates.
Increased Product Tanker fleet capacity by 32% with the addition of a seventh full-size tanker early in the year, more than tripling segment operating earnings. Continued high customer demand led to a 34% increase in segment revenue, which was met, in part, with continued use of outside chartered capacity.
Capitalized on improvement in market rates on nearly 40% of Domestic Dry-Bulk segment volumes, offsetting the decrease in fleet capacity of one ship. Earnings were lower in the segment as a result of increased winter lay-up and dry-dock spending compared to 2018. The Company is committed to ensuring fleet reliability and longevity.
"We experienced solid results overall in fiscal 2019 and despite a few challenges, I am really pleased with the outcome," said Gregg Ruhl, President and CEO of Algoma. "This was a busy first year as President and CEO; we took delivery of our eighth Equinox Class vessel, purchased three ocean self-unloaders and one product tanker and began construction of another two vessels. Additionally, we renewed several key customer contracts with favourable outcomes and we are already seeing positive results as a consequence. I want to thank everyone at Algoma for all of their hard work setting us up for a successful future" continued Mr. Ruhl.
Consolidated revenue in 2019 was CAN$567,908, an increase of 12% compared to $508,201 reported in 2018. The increase in revenue was primarily a result of having additional vessels in operation, improved rates and strong customer demand in both the Product Tanker and Ocean Self-Unloader segments. In the Domestic Dry-Bulk segment, revenue decreased primarily due to lower fuel costs, which are passed through to customers as part of the freight rate. While dry-bulk volumes were lower overall due to the reduction in capacity compared to 2018, this was largely offset by strong freight rates as a result of favourable contract renewals.
Net earnings for 2019 were $24,159, a decrease of $26,784 compared to 2018. Earnings in 2018 include an after tax gain of $10,214 on certain shipbuilding contract cancellations whereas earnings in 2019 include a $15,542 impairment provision related to the Company's investment in the NovaAlgoma Short Sea Carrier joint venture. Adjusting for these two items, net earnings were down $1,028 compared to 2018.
At this time the Company is not experiencing any impact from the Coronavirus outbreak or the pipeline protests.
Latest News
(Posted on 26/11/23)
Shi.E.L.D. Services has selected Spinergie as its preferred digitized solution provider to monitor and... Read more
(Posted on 26/11/23)
Thousands of cadets and trainees in India will benefit from in-depth wellness training and support thanks... Read more
(Posted on 17/11/23)
As shipping continues its journey to decarbonisation, INTERCARGO will host a special forum in Athens... Read more
(Posted on 13/11/23)
INTERCARGO was deeply saddened and concerned to hear of the reported appalling missile attack on the... Read more
(Posted on 13/11/23)
A new-look Wellness at Sea Awareness Campaign for seafarers, their families and shore staff that &ldquo... Read more
(Posted on 05/11/23)
Classification society DNV has entered into a Joint Development Project (JDP) with AL Group and its... Read more
(Posted on 31/10/23)
Samsung Heavy Industries (SHI) and leading classification society DNV have inked a Memorandum of Understanding... Read more
(Posted on 31/10/23)
WISTA International, during its Annual General Meeting (AGM) held in Montevideo, Uruguay, on 25 October... Read more
(Posted on 31/10/23)
Members of INTERCARGO met in Athens last week for the Association's Annual General Meeting, Executive... Read more
(Posted on 26/10/23)
The Columbia Group (Columbia) has opened a new manning agency, Columbia Shipmanagement Vietnam (CSM... Read more