Solar panels to reduce emissions at BHP Nickel West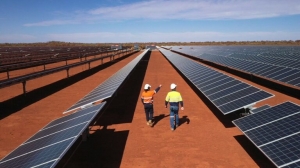 (Posted on 25/07/22)
The first solar panels have started being installed this week at BHP's massive solar farm at Leinster Nickel Operation in the Northern Goldfields.
By the end of 2022, over 20,000 solar panels will be installed at this site alone, helping to power BHP Nickel West's mining and concentrating operations at Leinster. At Mt Keith Operation there are even more - with over 51,000 solar panels going in.
The Northern Goldfields Solar Project, to be constructed and owned by one of BHP Nickel West's renewable energy partners TransAlta, includes a 27.4 MW solar farm at Mt Keith Nickel Operation and a 10.7 MW solar farm and 10.1 MW battery at Leinster Nickel Operation, which will be integrated into TransAlta's Northern Goldfields remote power grid.
The project, which will replace power currently supplied by diesel and gas, will help BHP Nickel West reduce Scope 2 greenhouse gas emissions at its Mt Keith and Leinster operations by 12 per cent resulting in an estimated reduction of 54,000 tonnes CO2-e per annum.
The construction phase of the solar project has created more than 100 direct and indirect jobs in the Goldfields and Perth regions and is expected to produce its first solar power by the end of 2022.
BHP Nickel West Asset President Jessica Farrell said BHP was meeting its commitment to deliver sustainable low carbon nickel to its customers, a product that is in high demand to power batteries and electric vehicles.
"The Northern Goldfields Solar Project is BHP's first off-grid large-scale renewable energy project across our global operations and, significantly, will remove the equivalent of up to 23,000 combustion engine cars [2] from the road every year, supporting our greenhouse gas reduction targets," Ms Farrell said.
TransAlta is also working with BHP Nickel West to identify potential wind sites for a 40 to 50MW wind farm, which would connect to TransAlta's northern grid and reduce Scope 2 greenhouse gas emissions at BHP's Mt Keith and Leinster operations.
Adding wind will increase renewable energy supply to support BHP's growth and further each company's sustainability goals.
Latest News
(Posted on 26/11/23)
ADM, a leader in sustainable agriculture supply chains, has announced an important expansion of its... Read more
(Posted on 17/11/23)
Trafigura, a market leader in the global commodities industry, has agreed to invest in an all-in-one... Read more
(Posted on 17/11/23)
ADM and Marathon Petroleum Corp. have celebrated the opening of their joint venture soybean processing... Read more
(Posted on 13/11/23)
Former U.S. Grains Council (USGC) Director of Global Programmes Alejandra Castillo was named the successor... Read more
(Posted on 13/11/23)
Rio Tinto has completed the acquisition of PanAmerican Silver's stake in Agua de la Falda and... Read more
(Posted on 05/11/23)
Cargill has completed an expansion and modernization project at its integrated soybean crush and refined... Read more
(Posted on 31/10/23)
BHP has approved an investment of US$4.9 billion (C$6.4 billion) for stage two of the Jansen potash... Read more
(Posted on 31/10/23)
Rio Tinto and cable solution provider Prysmian are partnering to build a more sustainable North American... Read more
(Posted on 26/10/23)
The American Soybean Association has applauded the U.S. Department of Agriculture's efforts to... Read more
(Posted on 26/10/23)
Rio Tinto has appointed James "Joc" O'Rourke as a non-executive director with effect... Read more