Siwertell to deliver competitive edge to new Mexican agri-bulk terminal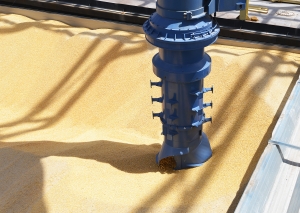 (Posted on 24/05/18)
Siwertell, part of Bruks Siwertell Group, has secured an order from Mexico's Gramosa Agroalimentos SA for a high-capacity unloader to serve the company's new agri-bulk terminal located in the Gulf of Mexico port, Veracruz. The unloader was chosen after out-performing all competitor systems during a four-month selection process.
The totally-enclosed, rail-mounted, Siwertell ST 640-M unloader offers a rated capacity of 1,200t/h and will handle grain, corn, soya bean meal and dried distillers grains with solubles (DDGS).
In a statement from Gramosa Agroalimentos, the company said that: "The Siwertell system was selected after considering many factors and multiple equipment comparisons. Analysis included operating principles and mechanisms, investment costs, as well as operating costs.
"An important factor was cargo loss and damage. We will handle a number of different grains at the new terminal such as corn, rice, wheat, soya beans and canola seeds. The low conveying speed of the Siwertell screw-type unloader means that the grain is not damaged during handling, which will give us added value and differentiate us from our competition.
"Although the selection analysis took four months, it was actually an extremely quick process," says Patrik Henryson, Siwertell Sales Manager. "Our first meeting with the customer, via a local contact, was in November and the unloader was ordered by February this year. I think this speaks volumes about the performance of our equipment and the service that we offer as company."
The new unloader will be delivered fully-assembled from China and will then be tested and commissioned on site in Veracruz by Siwertell. It is expected to be operational in mid-2019.
Latest News
(Posted on 31/03/23)
Konecranes has won an order for two Konecranes Gottwald Cranes on Barge from Winning Logistics in Guinea... Read more
(Posted on 31/03/23)
Technology group Wärtsilä has introduced a new radical derating retrofit solution –... Read more
(Posted on 31/03/23)
Thomas Zanzinger, CEO of Ocean Technologies Group (OTG), outlined why he thought many maritime businesses... Read more
(Posted on 28/03/23)
DNV has enhanced its Alternative Fuels Insight (AFI) data platform as part of an effort to accelerate... Read more
(Posted on 24/03/23)
Bruks Siwertell has secured an order for a next-generation Siwertell road-mobile ship unloader, which... Read more
(Posted on 20/03/23)
Thordon Bearings is supplying its grease-free, self-lubricating ThorPlas-Blue bearing material to a... Read more
(Posted on 20/03/23)
French water treatment specialist BIO-UV Group has appointed Laurent-Emmanuel Migeon as its new Chairman... Read more
(Posted on 07/03/23)
With Wärtsilä's CII Dashboard, Anglo-Eastern is now able to make better informed decisions... Read more
(Posted on 07/03/23)
Bruks Siwertell has completed the commissioning of two large-scale Siwertell ST 790-D-type ship unloaders... Read more
(Posted on 28/02/23)
A consortium including technology group Wärtsilä has secured European Union funding to develop... Read more