Siwertell ship unloaders specified for Chinese power station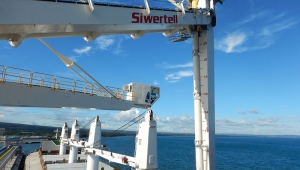 (Posted on 25/10/21)
Bruks Siwertell will deliver two large-scale Siwertell ST 790-D-type ship unloaders for a new ultra-supercritical power station under construction in southern China, ensuring extremely efficient coal handling, free from spillage and dust emissions. The contract was placed by an undisclosed owner.
"We lead the world in supplying this type of ship unloader," says Ola Jeppsson, Sales Manager, Bruks Siwertell. "Our good reputation is very important. The power plant is already served by two similar Siwertell ship unloaders, and their performance is one of many reasons why the company trusts our technology.
"This order was won in the face of fierce competition with Chinese suppliers," continues Jeppsson. "We could also offer a short delivery timescale, along with market-leading coal handling capabilities."
The latest units have been ordered to support the first phase of development of the new two-unit 1,000MW coal-fired power plant. The unloaders will be rail-mounted and offer a continuous rated coal handling capacity of 1,800t/h, discharging vessels of up to 100,000 dwt.
"Our technology ensures the most environmentally friendly, sustainable dry bulk material handling for the power-generation plant," Jeppsson notes. "Siwertell ship unloaders are also much lower in weight than any equivalent capacity system. This minimizes the load on the jetty, which, in turn, delivers significant cost savings in jetty construction."
The unloaders will be delivered under a turn-key contract, including commissioning, at the end of May 2022. They will be delivered fully assembled to Nantong, China, and shipped to the site. Final commissioning and performance tests will be carried out after installation on site.
Latest News
(Posted on 03/12/23)
Ship design, particularly the design of bulk carriers, presents particular challenges when it comes... Read more
(Posted on 26/11/23)
VIKING Life-Saving Equipment, a global leader in maritime safety solutions, is launching an innovative... Read more
(Posted on 26/11/23)
Damen's client Gerdes Green has received a subsidy from the German Government for the investment... Read more
(Posted on 17/11/23)
A first of its kind training course for the Middle East has been held to teach mariners about the basic... Read more
(Posted on 13/11/23)
Wärtsilä ANCS, part of technology group Wärtsilä, has delivered to Seaspan, a marine... Read more
(Posted on 31/10/23)
The flag raising ceremony for three new ASD Tugs has taken place in Gdansk, Poland. In the presence... Read more
(Posted on 26/10/23)
A new immersive crane simulator that can recreate high-risk scenarios without putting drivers or other... Read more
(Posted on 23/10/23)
Vesto Ropes, a global leader in innovative steel wire-rope solutions, has announced a strategic partnership... Read more
(Posted on 23/10/23)
Bedeschi S.p.a. has been awarded a contract for the design and supply of a new longitudinal storage... Read more
(Posted on 18/10/23)
Rhenus Maritime Services (RMS) is adding a new coastal vessel to its fleet in the shape of the RMS Ruhrort... Read more