Siwertell ship unloaders for new Chinese power station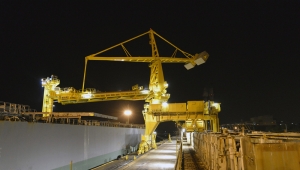 (Posted on 07/03/23)
Bruks Siwertell has completed the commissioning of two large-scale Siwertell ST 790-D-type ship unloaders for a newly developed ultra-supercritical power station in southern China, ensuring clean and efficient coal handling for their new owners.
"The Covid pandemic presented a number of challenges for the commissioning process as it was impossible to send personnel from Sweden," explains Björn Ohlsson, Contract Manager, Bruks Siwertell. "We had to get creative, developing a unique set-up that saw our local personnel carry out the commissioning and performance tests with remote support from Sweden.
"The whole process required us to be very flexible, not only with our approach, but also with our working hours. The result is two ship unloaders that are meeting their new owner's expectations," Ohlsson adds.
The new unloaders secure the delivery of fuel to a two-unit 1,000MW power plant development. Siwertell screw-type ship unloaders are designed to handle coal and other dry bulk materials in the most environment-friendly way possible, with totally enclosed conveying lines from start to finish, providing an operation free from spillage, and reducing dust emissions to a minimum.
"The proven performance of Siwertell unloaders was an important element in them being selected for this new development," notes Ohlsson. "Our technology is also much lower in weight than any equivalent capacity equipment, which minimized the load on the jetty, delivering significant cost savings in jetty construction."
In addition to their low weight, the Siwertell ship unloaders, deliver market-leading through-ship capacities, which minimize berth occupancy. These new units are rail-mounted and offer a continuous rated coal handling capacity of 1,800t/h, with a peak capacity of 2,000t/h, discharging vessels of up to 100,000 dwt.
Latest News
(Posted on 07/12/23)
In an initiative set to be transformational for ship design while protecting the oceans from pollution... Read more
(Posted on 03/12/23)
Ship design, particularly the design of bulk carriers, presents particular challenges when it comes... Read more
(Posted on 26/11/23)
VIKING Life-Saving Equipment, a global leader in maritime safety solutions, is launching an innovative... Read more
(Posted on 26/11/23)
Damen's client Gerdes Green has received a subsidy from the German Government for the investment... Read more
(Posted on 17/11/23)
A first of its kind training course for the Middle East has been held to teach mariners about the basic... Read more
(Posted on 13/11/23)
Wärtsilä ANCS, part of technology group Wärtsilä, has delivered to Seaspan, a marine... Read more
(Posted on 31/10/23)
The flag raising ceremony for three new ASD Tugs has taken place in Gdansk, Poland. In the presence... Read more
(Posted on 26/10/23)
A new immersive crane simulator that can recreate high-risk scenarios without putting drivers or other... Read more
(Posted on 23/10/23)
Vesto Ropes, a global leader in innovative steel wire-rope solutions, has announced a strategic partnership... Read more
(Posted on 23/10/23)
Bedeschi S.p.a. has been awarded a contract for the design and supply of a new longitudinal storage... Read more