Shell wins BHP iron ore vessels LNG supply agreement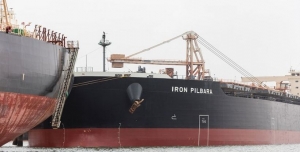 (Posted on 06/12/20)
BHP has awarded its first LNG supply agreement for five LNG-fuelled Newcastlemax bulk carriers, which will transport iron ore between Western Australia and China from 2022.
Shell has been awarded the contract to fuel the vessels, which BHP will charter from Eastern Pacific Shipping (EPS) for five-year terms.
BHP Chief Commercial Officer, Vandita Pant, said: "The LNG bunkering contract marks a significant step in how BHP is working with our suppliers to reduce emissions across the maritime supply chain."
"LNG fuelled vessels are forecast to help BHP reduce CO2-e emissions by 30 per cent on a per voyage basis compared to a conventional fuelled voyage between Western Australia and China, and contribute to our 2030 goal to support 40 per cent emissions intensity reduction of BHP-chartered shipping of our products."
Steve Hill, Executive Vice President, Shell Energy, said: "I would like to congratulate BHP on reducing emissions in their maritime supply chain with the world's first LNG-fuelled Newcastlemax bulk carriers. Decarbonisation of the shipping industry must begin today and LNG is the cleanest fuel currently available in meaningful volumes."
"This LNG bunkering contract strengthens the bunkering market in the region and we look forward to working with BHP and other customers in the maritime sector on their journey to a net-zero emissions future."
The contract is the result of a tender process that included potential suppliers across several geographies. Technical capability, available infrastructure and cost competitiveness were among the stringent criteria.
LNG bunkering – the process of fuelling ships with LNG – will take place through the first LNG bunker vessel in Singapore, "FueLNG Bellina". The vessel is operated by FueLNG, a joint venture between Shell Eastern Petroleum and Keppel Offshore & Marine. The bunker vessel will be able to bunker fuel at a rate of 100-1,000 cubic metres per hour.
"The LNG bunkering contract will enable BHP to manage fuel supply risk, build LNG operational capability internally, and also help to strengthen the emerging LNG bunkering market in the region. This contract is expected to form up to 10 per cent of forecasted Asian LNG bunker demand in FY2023," said Ms Pant.
Latest News
(Posted on 07/12/23)
Rio Tinto has approved a $77 million (A$110 million) pre-feasibility study (PFS) to progress development... Read more
(Posted on 03/12/23)
Rio Tinto and Giampaolo Group have completed a transaction to form the Matalco joint venture, combining... Read more
(Posted on 03/12/23)
Khalifa Economic Zones Abu Dhabi – KEZAD Group, the largest operator of integrated and purpose... Read more
(Posted on 26/11/23)
ADM, a leader in sustainable agriculture supply chains, has announced an important expansion of its... Read more
(Posted on 17/11/23)
Trafigura, a market leader in the global commodities industry, has agreed to invest in an all-in-one... Read more
(Posted on 17/11/23)
ADM and Marathon Petroleum Corp. have celebrated the opening of their joint venture soybean processing... Read more
(Posted on 13/11/23)
Former U.S. Grains Council (USGC) Director of Global Programmes Alejandra Castillo was named the successor... Read more
(Posted on 13/11/23)
Rio Tinto has completed the acquisition of PanAmerican Silver's stake in Agua de la Falda and... Read more
(Posted on 05/11/23)
Cargill has completed an expansion and modernization project at its integrated soybean crush and refined... Read more
(Posted on 31/10/23)
BHP has approved an investment of US$4.9 billion (C$6.4 billion) for stage two of the Jansen potash... Read more