Sensing360 and Damen join forces on sensors for shipping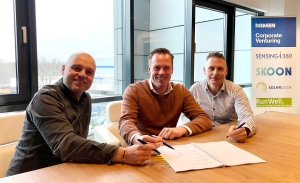 (Posted on 24/04/23)
Utrecht-based startup Sensing360 and Damen Shipyards Group have formed a partnership to improve the safety, efficiency and sustainability of ships through advanced sensor technology.
Sensing360 specialises in sensor technology based on photonics — the interaction between light and electronics. Up to 20 of these optical sensors can be incorporated into fibre-optic cables no thicker than a human hair. The great advantage of this is that data can also be collected in places that are difficult to reach or dangerous.
"The collaboration with Damen means we can now also deploy this technology — which we already use extensively in wind turbines — onboard ships. For example, we are looking at deploying them in winches and other rotating parts," explains Georgo Angelis, Sensing360's CEO. "This is a step forward we are taking together to make the maritime sector safer, more efficient and sustainable."
Sensing360 will also support the development of algorithm solutions that can analyse and interpret data from the sensors to optimise the operational performance of the Damen vessels.
Jasper Schuringa, Head of Corporate Venturing: "The data and thus the insights gathered by photonic sensors are of crucial value to our customers. They also offer opportunities for new business models and support technological developments, such as remote control and automated operations. Through Triton, our 'connected vessel platform', information from many thousands of data points and sensors is collected to provide an overall view of the ship's performance indicators. So thanks to this collaboration, we can start adding quite a few more parameters to that. It is a great example of the growing trend of cooperation between startups and established companies to create synergies and generate value together."
Damen Shipyards Group has been in operation for over ninety years and offers maritime solutions worldwide, through design, construction, conversion and repair of ships and ship components. By integrating systems we create innovative, high quality platforms, which provide our customers with maximum added value
Damen operates 35 shipyards and 20 other companies in 20 countries, supported by a worldwide sales and service network.
Latest News
(Posted on 26/11/23)
VIKING Life-Saving Equipment, a global leader in maritime safety solutions, is launching an innovative... Read more
(Posted on 26/11/23)
Damen's client Gerdes Green has received a subsidy from the German Government for the investment... Read more
(Posted on 17/11/23)
A first of its kind training course for the Middle East has been held to teach mariners about the basic... Read more
(Posted on 13/11/23)
Wärtsilä ANCS, part of technology group Wärtsilä, has delivered to Seaspan, a marine... Read more
(Posted on 31/10/23)
The flag raising ceremony for three new ASD Tugs has taken place in Gdansk, Poland. In the presence... Read more
(Posted on 26/10/23)
A new immersive crane simulator that can recreate high-risk scenarios without putting drivers or other... Read more
(Posted on 23/10/23)
Vesto Ropes, a global leader in innovative steel wire-rope solutions, has announced a strategic partnership... Read more
(Posted on 23/10/23)
Bedeschi S.p.a. has been awarded a contract for the design and supply of a new longitudinal storage... Read more
(Posted on 18/10/23)
Rhenus Maritime Services (RMS) is adding a new coastal vessel to its fleet in the shape of the RMS Ruhrort... Read more
(Posted on 18/10/23)
Dualog, a leading maritime software provider, has introduced a major enhancement to the Dualog Drive... Read more