Seanergy to be sole US-listed pure-play Capesize owner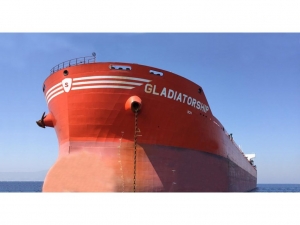 (Posted on 04/10/18)
Seanergy Maritime Holdings Corp. has announced that it has entered into definitive agreements with unaffiliated third parties for the purchase of a modern secondhand Capesize vessel and the sale of two Supramax drybulk vessels. The transactions are expected to be completed in the fourth quarter of 2018. Following these transactions, Seanergy will be the only pure-play Capesize vessel owner listed in the US public markets.

The Company has agreed to acquire a modern secondhand Capesize vessel from an unaffiliated third party, built in 2010 at Daewoo Shipbuilding in South Korea with a cargo-carrying capacity of approximately 180,000 deadweight tons ("dwt") for a gross purchase price of $28.7 million.
The delivery of the new vessel is scheduled to take place in the fourth quarter of 2018. The vessel is currently on time charter to a major European drybulk operator at a gross daily rate of $17,150 with latest redelivery date in January 2019.

Additionally, the Company has entered into two separate definitive agreements with unaffiliated third parties for the sale of its only two Supramax vessels, the 2010-built M/V Gladiatorship and the 2011-built M/V Guardianship. The aggregate gross sale price is approximately $23 million and the vessels are scheduled to be delivered to their new owners in October 2018.

Finally, the Company has reached an in-principle agreement with the existing lender of the two Supramax vessels pursuant to which it expects that the loan secured by these vessels will remain available to fund the majority of the acquisition cost of the new Capesize vessel under substantially the same terms. The definitive documentation for such agreement is currently under negotiation with the Company's lender. The balance of the acquisition price of the Capesize vessel is expected to be funded through cash on hand.
The S&P transactions are subject to standard closing procedures.
Latest News
(Posted on 27/09/23)
As the global shipping industry today celebrates World Maritime Day with its central theme of &ldquo... Read more
(Posted on 26/09/23)
Leading provider of secure maritime data communications software, GTMaritime, has reached 15,000 installations... Read more
(Posted on 26/09/23)
Posidonia Exhibitions, organisers of Posidonia, the International Shipping Exhibition, is launching... Read more
(Posted on 19/09/23)
Seven months after its formal launch, NorthStandard is already realizing tangible benefits from combining... Read more
(Posted on 12/09/23)
Maritime nuclear technology company CORE POWER has boosted its Global Advisory Board with four new high... Read more
(Posted on 12/09/23)
Foreship has relocated its UK subsidiary to larger premises and appointed Tuur Killaars as Senior Sustainability... Read more
(Posted on 08/09/23)
Classification society DNV has signed a Memorandum of Understanding (MoU) with Singapore-based ship... Read more
(Posted on 08/09/23)
Leading blended learning provider Intelligent Seas Group (ISG) is delighted to announce its collaboration... Read more
(Posted on 04/09/23)
Record year-on-year declines in rainfall has been identified as the 'likely culprit' for... Read more
(Posted on 04/09/23)
After years of keeping a vital navigation service operating on the same income, Middle East Navigation... Read more