Seanergy announces $179m restructuring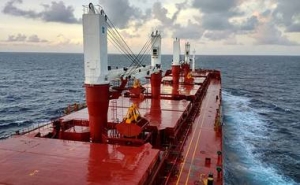 (Posted on 14/01/21)
Seanergy Maritime Holdings Corp. has announced that it has reached final agreements with certain of its senior lenders and junior lender, for the financial restructuring of a total of $179 million, consisting of four senior credit facilities (the "Senior Facilities"), three junior credit facilities (the "Jelco Loans") and three junior convertible notes (the "Jelco Notes"). Following these agreements, the previously announced defaults and cross-defaults have been fully resolved.
Pursuant to the restructuring terms, approximately $87 million of debt maturities falling due in 2020
have been extended to future periods, between December 2022 and December 2024, providing
Seanergy with a clean two-year runway. In addition, the rescheduling of the amortization payments
under certain of the Senior Facilities and the reduction of the interest rate across the junior loans and
notes are expected to have a positive impact on the cash break-even of the Company going forward.
Moreover, the Company's lenders have agreed to cancel or amend certain financial covenants and
security maintenance provisions under the Senior Facilities allowing for additional financial flexibility,
including payment of dividends.
Stamatis Tsantanis, the Company's Chairman and Chief Executive Officer stated:
"We are very pleased to announce the successful conclusion of the restructuring discussions with
certain of our lenders. The discussions extended since the first quarter of 2020 and were finally
concluded in an amicable manner. The agreed solutions provide Seanergy with a solid financial
standing going forward, allowing us to pursue our strategy to enhance corporate value and pave the
way to improved shareholder returns.
Under the agreed restructuring, there are no imminent loan maturities or underlying defaults, our
balance sheet has been delevered through the extinguishment of debt and accrued interest and our
future cash flow is expected to improve through reduced interest expense and debt amortization
payments in the next years. Our overall debt has seen an impressive year-over-year reduction of
$36.0 million through the restructuring initiatives and the uninterrupted servicing of the scheduled
amortization payments.
Despite the global challenges presented in 2020, we have delivered milestone transactions, including
the prominent restructuring of our debt, fleet expansion and beneficial commercial agreements.
Seanergy, as the only pure-play Capesize vessel owner listed in the US capital markets, is in a great
position to capture what we believe is significant upside potential in a rising market."
Latest News
(Posted on 28/03/23)
The board of Oldendorff Carriers, has appointed Patrick Hutchins as the new President and CEO of the... Read more
(Posted on 28/03/23)
The Swedish Club is looking to the future with the expansion and restructuring of the Club's management... Read more
(Posted on 24/03/23)
One Sea has welcomeed Finnish start-up Groke Technologies as its new member, bringing additional expertise... Read more
(Posted on 24/03/23)
ClassNK has released "FAQs on the EU-ETS for Shipping", an overview and necessary preparation... Read more
(Posted on 20/03/23)
AXSMarine, a pioneer and market leader in the provision of advanced solutions for shipping professionals... Read more
(Posted on 20/03/23)
Shipzero is enabling transport and logistics companies to create transparency about their emissions... Read more
(Posted on 07/03/23)
The Isle of Man Ship Registry (IOMSR) has become an associate member of The International Association... Read more
(Posted on 07/03/23)
The wellbeing of crew members is becoming more important to shipping companies says leading catering... Read more
(Posted on 28/02/23)
Canada based Algoma Central Corporation has reported its results for the year ended 31 December, 2022... Read more
(Posted on 24/02/23)
Ukrainian seafarers have largely returned to international shipping thereby restoring balance in crew... Read more