Seafarers must not be forgotten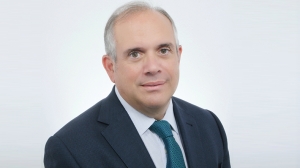 (Posted on 28/04/20)
As International Labour Day on 1 May approaches, it is more important than ever to remember the critical role played by seafarers in continuing to transport food, medicines and other essential goods during the COVID-19 pandemic, says INTERCARGO, the organisation representing the world's quality dry bulk shipowners.
"Seafarers must not be forgotten in these extraordinary times," says Dimitris Fafalios, Chairman of INTERCARGO. "The issue of crew change must be at the top of the industry's agenda. Seafarers are amongst the world's key workers, vital to the global transportation chain. All maritime nations, ports and airports should, as a matter of urgency, permit the travel in/out and sign-on/off of seafarers, with the necessary safety procedures, allowing them to join from and repatriate to their countries of residence with seafarer's documents and without visas, while the consulates are closed in the seafarers' countries of residence.
"Without efficient crew changes, the supply chain would break down leading to basic product shortages and greater hardships for people around the world," adds Mr Fafalios.
"It must be remembered that some of these seafarers may have served their 4-9 months tour of duty and are not able to be relieved even after serving 12 months or more on board ship", says Jay K. Pillai, INTERCARGO's Vice-Chairman. "Not only do they deserve our full support, empathy and compassion, but we must also consider the safety implications of the fatigue and depression that are an almost inevitable result of a seafarer being unable to re-unite with their family after such a long time on board while their families back home are enduring these challenging circumstances.
"Maritime authorities of Port States should join hands with their immigration departments to empathise with crews, our unsung heroes at sea, treat them as key workers as requested by the IMO Secretary General and permit crew change without undue restrictions in their ports to ensure safety at sea and of their territorial waters," adds Mr Pillai.
In the bulk carrier industry alone, there are close to 12,000 vessels employing over 300,000 seafarers globally. Dr Kostas Gkonis, Secretary General of INTERCARGO calls on the sector to support the #HeroesAtSeaShoutOut campaign. "If your vessel is in port and it is safe to do so, then please sound your ship's horn at 1200 LT on May 1 to show consolidated support around the world for the many seafarers who cannot be with their loved ones at this time of global uncertainty."
"Such initiatives remind our valued seafarers that they are not alone, as demonstrated by the recent personal message from the IMO Secretary General to seafarers 'You are not alone'," adds Dr Gkonis.
Latest News
(Posted on 26/11/23)
Shi.E.L.D. Services has selected Spinergie as its preferred digitized solution provider to monitor and... Read more
(Posted on 26/11/23)
Thousands of cadets and trainees in India will benefit from in-depth wellness training and support thanks... Read more
(Posted on 17/11/23)
As shipping continues its journey to decarbonisation, INTERCARGO will host a special forum in Athens... Read more
(Posted on 13/11/23)
INTERCARGO was deeply saddened and concerned to hear of the reported appalling missile attack on the... Read more
(Posted on 13/11/23)
A new-look Wellness at Sea Awareness Campaign for seafarers, their families and shore staff that &ldquo... Read more
(Posted on 05/11/23)
Classification society DNV has entered into a Joint Development Project (JDP) with AL Group and its... Read more
(Posted on 31/10/23)
Samsung Heavy Industries (SHI) and leading classification society DNV have inked a Memorandum of Understanding... Read more
(Posted on 31/10/23)
WISTA International, during its Annual General Meeting (AGM) held in Montevideo, Uruguay, on 25 October... Read more
(Posted on 31/10/23)
Members of INTERCARGO met in Athens last week for the Association's Annual General Meeting, Executive... Read more
(Posted on 26/10/23)
The Columbia Group (Columbia) has opened a new manning agency, Columbia Shipmanagement Vietnam (CSM... Read more