Seafarers' chaplain honoured for 50 years of service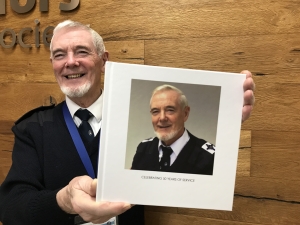 (Posted on 31/01/20)
"One in a million" chaplain Rev Bill McCrea has been honoured by Southampton-based international maritime charity Sailors' Society for 50 years of service.
Bill, who continues to visit seafarers every week in Southampton port despite formally retiring 14 years ago, was celebrated at an event to mark his long service on 13th January at Southampton Seafarers' Centre.
Before his retirement, Bill served as a full-time chaplain for 37 years in London, Kent, Belfast, Jamaica, Rotterdam, Antwerp, Houston and Southampton.
He's reached out to more than 500,000 seafarers over the years, offering a warm welcome, a tune from his mouth organ and practical support – from a listening ear to a lift to the seafarer centre or the doctor.
"I love the work," he said. "I believe you have to have a calling to it and, as I say every week when I go on the ships with my volunteers, every ship visit is different – no two are the same."
Over the years he has experienced great joy, like when he gives seafarers free Wi-Fi to contact their families back home, but also tremendous tragedy.
Bill was chaplain to the Merchant Navy and Sea Training Colleges in Kent on 6 March 1987, when the roll-on-roll-off ferry Herald of Free Enterprise capsized moments after leaving Zeebrugge port in Belgium, bound for Dover.
Bill took the funerals of four crew members and cared for their families in the aftermath of the disaster.
"I tremble every time I think of some of those situations," Bill said.
"It was a terrible time for Dover and I don't think the city has ever fully recovered."
Despite the hard times, Bill's commitment to the seafarers he serves hasn't wavered. He even visits ships on Christmas day, when he takes presents to seafarers docked in Southampton. His wife Rosaleen and their family know that Christmas dinner in their home will not be served until Bill has returned from the port.
Sandra Welch, COO of Sailors' Society, said: "Bill is one in a million. His selflessness and dedication to supporting seafarers is inspirational and we are so pleased he's still volunteering for us after all these years."
Bill's commitment to the maritime industry saw him awarded the Queen's Golden Jubilee Medal for his services as Chaplain to the Sea Cadets in 2003. He was also awarded the Merchant Navy Medal in 2010 for his services to retired seafarers.
Latest News
(Posted on 03/12/23)
The Dry Bulk and LNG segments have borne the brunt of restricted transits, particularly due to their... Read more
(Posted on 03/12/23)
Columbia Shipmanagement (CSM) is set to further boost operational efficiency on its vessels, as crew... Read more
(Posted on 26/11/23)
Shi.E.L.D. Services has selected Spinergie as its preferred digitized solution provider to monitor and... Read more
(Posted on 26/11/23)
Thousands of cadets and trainees in India will benefit from in-depth wellness training and support thanks... Read more
(Posted on 17/11/23)
As shipping continues its journey to decarbonisation, INTERCARGO will host a special forum in Athens... Read more
(Posted on 13/11/23)
INTERCARGO was deeply saddened and concerned to hear of the reported appalling missile attack on the... Read more
(Posted on 13/11/23)
A new-look Wellness at Sea Awareness Campaign for seafarers, their families and shore staff that &ldquo... Read more
(Posted on 05/11/23)
Classification society DNV has entered into a Joint Development Project (JDP) with AL Group and its... Read more
(Posted on 31/10/23)
Samsung Heavy Industries (SHI) and leading classification society DNV have inked a Memorandum of Understanding... Read more
(Posted on 31/10/23)
WISTA International, during its Annual General Meeting (AGM) held in Montevideo, Uruguay, on 25 October... Read more